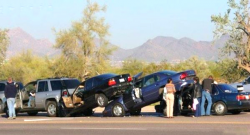 — Automatic emergency braking systems and how they will be used in vehicles have caused three consumer advocates to file a lawsuit against the National Highway Traffic Safety Administration (NHTSA) in a federal district court in Washington, D.C.
Filed by Consumer Watchdog, the Center for Auto Safety and Joan Claybrook, former NHTSA administrator and president of Public Citizen, the lawsuit alleges federal safety regulators broke the law concerning a petition filed January 16, 2016.
The advocates filed the petition asking NHTSA to mandate automatic emergency braking in all new vehicles instead of allowing automakers to voluntarily make the technology standard in their vehicles.
The lawsuit separates automatic emergency braking into three functions that use combinations of radar, lidar (reflected laser light) and cameras for their systems. All systems include a forward collision warning system that gives a driver audio or visual alerts that a forward collision is near.
Crash imminent braking goes beyond the forward collision warning system by automatically applying the brakes if the driver doesn't respond to the audio or visual warnings. And then dynamic brake support applies supplemental braking when regular braking isn't enough to avoid a collision.
Research conducted by the Insurance Institute for Highway Safety shows automatic emergency braking reduces rear-end crashes by 39 percent on average and if the technology would have been available in 2013, there would have been at least 700,000 fewer rear-end crashes that year alone.
In 2015, NHTSA reached an agreement with 10 automakers to make automatic emergency braking standard on new vehicles, then that number was increased to cover 20 automakers involved in the agreement.
The lawsuit says by leaving decisions and rules in the hands of automakers, manufacturers can offer any version of the technology they choose and do it on a voluntary basis over a 10-year period.
According to the lawsuit, there is no way to enforce the agreement because voluntary standards only protect auto manufacturers, not consumers. If an automaker decides to violate the voluntary standards, neither NHTSA nor consumers may challenge the automakers' violation of the agreement.
The consumer advocates say NHTSA is devoting a massive amount of resources to self-driving vehicles which are likely years or decades away from taking over the roads. However, NHTSA is ignoring its rulemaking responsibilities about automatic emergency braking, a technology that is ready to save lives now.
Under federal law, NHTSA had up to 120 days (May 12) to approve or deny the petition but has so far ignored the petition and the law.
The lawsuit, filed on November 13, 2016, wants the court to order NHTSA to make a decision on the petition within 30 days.