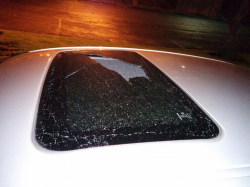 — A Lexus exploding sunroof lawsuit alleges all Lexus vehicles with sunroofs are at risk of a defect that causes the glass to spontaneously shatter without anything hitting the sunroofs.
Plaintiff Ginger Minoletti claims her Lexus RX 350 was traveling on a California highway when the sunroof glass started making a loud noise. Minoletti says it sounded like the glass was cracking and she later found pieces of glass inside the shade of the sunroof.
According to the lawsuit, Lexus and its parent company Toyota has known since 2012 that the sunroofs were dangerous but concealed that knowledge from consumers.
The lawsuit says because the sunroofs can explode from no outside causes, owners are often left trying to figure out why shards of glass are covering occupants and the inside of the vehicles. Although the proposed class-action lawsuit currently concerns California Lexus owners only, owners across the country have complained about having no warning the glass was getting ready to disintegrate.
"Travel back from New Orleans to Austin Texas on I-10 out in the middle of nowhere traveling 70mph and the sunroof on my Lexus RX-350 exploded into a shattering disaster. If shade had been opened it could have been detrimental bodily injury to myself or my passenger." - 2007 Lexus RX 350 owner / Austin, Texas
The plaintiff says she was stuck with paying for all the repairs to the sunroof because the automaker said the work wasn't covered under warranty. And based on what Lexus owners have told CarComplaints.com, getting stuck with paying for repairs is the norm.
"2 month old car, was driving to work on a highway. Sunroof exploded and also got thousands of scratches from the shattered glass. I don't understand why it's not covered by manufacturer - anyway it's not possible to prove anything to them." - 2013 Lexus GS 350 owner / Houston, Texas
"I was driving back from Boston to DC. Just north of Newark Airport, while driving at highway speeds (60mph) there was a very loud explosive noise. Then I noticed a lot of wind noise in the car. I pulled off at the next rest stop and discovered that my sunroof was shattered. I had to make three trips to the dealership to find out what was going on. It took them 7 days to finally tell me that they would not cover the damage." - 2011 Lexus CT 200h owner / Washington, DC
The Lexus exploding sunroof lawsuit was filed in the Superior Court of the State of California, County of Los Angeles - Ginger Minoletti v. Toyota Motors Sales USA Inc.
The plaintiff is represented by Bisnar Chase and Kabateck Brown Kellner LLP.