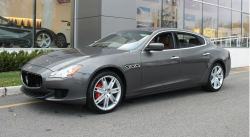 — Maserati is recalling 2014-2016 Quattroporte and Ghibli cars that could go out of control while driving. The automaker says almost 26,500 of the U.S. cars are at risk because specific bolts may not have been tightened properly.
The automaker says the cars were manufactured with incorrectly torqued attaching bolts used for the rear tie-rod hub carrier assemblies. The bolts will gradually loosen and lose their clamping force, causing noise to be heard from the rear of the cars.
Once a bolt fails, the tie-rod will separate from the hub assembly and cause the vehicle to have control issues. A driver will likely notice the rear of the car pulling to one side of the road.
Maserati opened an investigation in July 2014 after receiving four reports of noise coming from the rear of the cars while driving. All four reports involved cars with less than 3,100 miles, causing the automaker to inspect the bolts to determine if they were torqued correctly.
Maserati engineers believe a problem with the assembly machine may have caused the problem, so changes were made to the manufacturing process.
All the recalled cars were manufactured February 1, 2013, to September 18, 2015.
The recall is expected to begin on July 1, 2016. During the recall, dealers will check both the rear right-hand and left-hand tie-rod attaching bolts to make sure they are tight. If the tie-rod joint is loose or damaged, the rear hub carrier and rear tie-rod with its attaching bolt will be replaced. If the tie-rod joint is not loose, only the bolt will be replaced.
Maserati says the repairs could take an entire day to complete, based on which repairs are performed.
Owners of the 2014-2016 Quattroporte and Ghibli may contact Maserati at 201-510-2369 and use recall number 303.