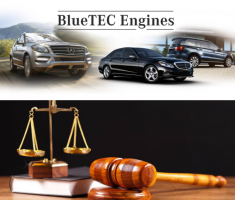 — A Mercedes-Benz BlueTEC diesel engine lawsuit has been filed accusing Mercedes of selling BlueTEC diesel vehicles that emit dangerous levels of nitrogen oxide emissions.
The Mercedes-Benz BlueTEC vehicles are advertised as having "clean diesel" technology with "ultra-low emissions, high fuel economy and responsive performance" that emits "up to 30% lower greenhouse-gas emissions than gasoline."
However, the emissions lawsuit alleges Mercedes diesel vehicles are intentionally programmed to emit nitrogen oxide levels up to 65 times higher than Environmental Protection Agency standards when the vehicles are operating at temperatures below 50 degrees.
California resident and plaintiff Gwendolyn Andary says she bought a new 2013 Mercedes GLK 250 BlueTEC that she still owns. Andary claims she wouldn't have purchased the vehicle if she would have known it was equipped with an emissions system that turned off nitrogen oxide reduction when the temperature dropped below 50 degrees.
The plaintiff says she has lost money on a "clean diesel" vehicle that is only clean as long as the temperature remains above 50 degrees Fahrenheit. Andary says she bought the vehicle believing the BlueTEC clean diesel system was better for the environment than other diesel vehicles, although the vehicle was really emitting dangerous levels of nitrogen oxides.
According to the Mercedes emissions lawsuit, the BlueTEC diesel vehicles were tested on-road and on average emitted nitrogen oxides 19 times higher than allowed by federal law. Some readings indicated emissions levels 65 times higher than allowed by federal standards.
The Mercedes-Benz BlueTEC diesel vehicles named in the emissions lawsuit are the following:
Mercedes-Benz ML 320
Mercedes-Benz ML 350
Mercedes-Benz GL 320
Mercedes-Benz E320
Mercedes-Benz S350
Mercedes-Benz R320
Mercedes-Benz E Class
Mercedes-Benz GL Class
Mercedes-Benz ML Class
Mercedes-Benz R Class
Mercedes-Benz S Class
Mercedes-Benz GLK Class
Mercedes-Benz GLE Class
Mercedes-Benz Sprinter
The Mercedes-Benz clean diesel lawsuit is different than Volkswagen and its "clean diesel" problems. In the case of VW, special software was installed to fool machines during official emissions testing, then once back on the road, the vehicle reverts to higher nitrogen oxide emissions.
The Mercedes case doesn't accuse the automaker of specifically using software to fool emissions tests. However, the lawsuit does accuse Mercedes of programming its BlueTEC vehicles with an emissions "defeat device" that turns off the nitrogen oxide reduction system when the temps drop below 50.
Mentioned in the lawsuit is a story from German magazine Der Spiegel where, according to the lawsuit, Mercedes-Benz admitted that a shut-off device in the engine management system of C-Class diesel cars stops nitrogen oxide cleaning under certain circumstances. Mercedes says the shut-off is used to protect the engine, but the magazine didn't provide details about what the automaker meant by that statement.
The Mercedes-Benz BlueTEC diesel emissions proposed class-action lawsuit was filed in the U.S. District Court for the District of New Jersey - Gwendolyn Andary, et al v. Mercedes-Benz USA LLC.
The plaintiff is represented by Hagens Berman.