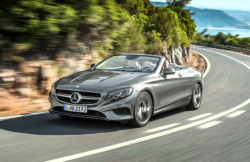 — Mercedes-Benz is recalling 3,200 cars because the low-beam headlights may not be adjusted correctly, not only causing a driver problems seeing at night, but possibly also causing problems to oncoming drivers.
The automaker says the following 2016-2017 vehicles need their headlights adjusted by dealers:
Mercedes-Benz GLE 300d 4Matic
Mercedes-Benz GLE 350
Mercedes-Benz GLE 350 4Matic
Mercedes-Benz GLE 400 4Matic
Mercedes-Benz S550 Coupe 4Matic
Mercedes-Benz S63 AMG Coupe 4Matic
Mercedes-Benz S65 AMG Coupe
Mercedes-Benz S63 AMG Convertible 4Matic
The automaker started an internal investigation in February 2016 after finding possible problems from quality control audits. Engineers found a problem in the settings for the low-beam headlights and determined the supplier had made changes to the lights.
Mercedes says the supplier changed from using an automatic configuration process for the headlights to a manual process, causing the headlights to be adjusted incorrectly. Additional research shows the headlights won't affect road safety, but the low-beam settings may not meet federal safety regulations.
The recalled 2016-2017 Mercedes-Benz S550 Coupe 4Matic, S63 AMG Coupe 4Matic, S65 AMG Coupe and S63 AMG Convertible 4Matic cars were manufactured September 3, 2015, to February 4, 2016.
The recalled 2016-2017 Mercedes-Benz GLE 300d 4Matic, GLE 350, GLE 350 4Matic and GLE 400 4Matic cars were built October 14, 2015, to November 23, 2015.
Owners of the cars should receive recall notices in November 2016. Mercedes-Benz dealers will correct the low-beam headlight adjustment to make the cars legal.
If you have questions or concerns, contact the automaker at 800-367-6372.
About three months ago, Mercedes recalled more than 9,000 cars for their own headlight problems when the automaker determined the sealing caps used to prevent owners from adjusting headlights were missing.