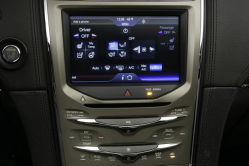 — A Ford MyFord Touch class-action lawsuit has been certified for consumers in nine states in a lawsuit that alleges MyFord Touch, MyLincoln Touch and MyMercury Touch systems are defective.
The plaintiffs claim the touchscreen systems go haywire and freeze and crash while the vehicles are moving. The systems allegedly provide incorrect GPS information, won't connect to phones, fail to respond to repeated voice commands and do nothing during touch commands.
The classes of certified consumers includes those who purchased at least one vehicle from Ford equipped with MyFord Touch from California, Colorado, Massachusetts, New Jersey, North Carolina, Ohio, Texas, Virginia and Washington.
Models named in the lawsuit include:
Ford C-Max
Ford Escape
Ford Edge
Ford Explorer
Ford Focus
Ford Fusion
Ford Taurus
Ford Flex
Ford Fiesta
Ford F-150
Ford Mustang
Lincoln Navigator
Mercury Milan
Mercury Mountaineer
Lincoln MKX
Lincoln MKZ
Lincoln MKS
Mercury Mariner
The lawsuit was originally filed in 2013 over the MyFord Touch, MyLincoln Touch and MyMercury Touch systems that were introduced by Ford in 2010 when Ford promised the extra expense would be worth it to consumers.
The systems were marketed as having the ability to operate audio controls, use navigation, place phone calls, play music from a smartphone and manage climate control systems.
The plaintiffs claim Ford knew the systems were junk even before consumers got their hands on vehicles equipped with the systems and according to court documents, 500 out of every 1,000 vehicles have systems showing serious problems.
The 2013 MyFord Touch lawsuit was filed by the Center for Defensive Driving after the nonprofit organization leased a 2013 Ford F-150 Lariat equipped with a MyFord Touch system.
The Center quickly learned the system suffered from numerous problems, including "system lockup and total system failure; periodic non-responsiveness to peripheral devices (such as MP3 players and smartphones); and periodic non-responsiveness to voice commands."
According to the lawsuit, between February 22, 2013, and July 1, 2013, the MyFord Touch unit failed or locked up on no fewer than 27 separate occasions.
The plaintiffs say Ford has issued multiple technical service bulletins and software updates, yet consumers continue to say the systems fail.
Documents revealed in court show Ford engineers knew the touchscreen systems had problems before any vehicles were ever sold to the public and Ford executives stopped using the systems in their own cars out of constant frustrations.
In certifying the class of consumers, the judge says Ford's own statements admit the alleged fixes haven't worked, including for important safety systems such as the defrosters and rear-view cameras. Having problems with those devices while driving can create safety hazards, even more so if the GPS is going wacky while your playing with a touchscreen that isn't working.
Some owners even report the systems completely shut off and then turn back on with a message that says, "performing scheduled maintenance," right at the time a driver needs the system.
Ford has maintained during the past three years in court that the plaintiffs are exaggerating about the MyFord Touch problems and no safety issues exist.
Attorneys say they are actively trying to expand the class-action lawsuit beyond consumers in nine states.
The Ford MyFord Touch lawsuit was filed in the U.S. District Court for the Central District of California - Center for Defensive Driving v. Ford Motor Co.
The plaintiffs are represented by Hagens Berman Sobol Shapiro LLP, Grant & Eisenhofer P.A., and Isaac, Wiles, Burkholder & Teetor LLC.