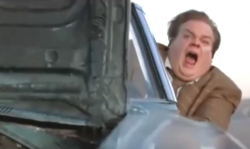 — For the third time since 2014, Nissan is recalling its Altima cars to repair hood latches that can allow hoods to fly open while driving. This time around it's 930,000 model year 2013-2015 Nissan Altimas, with almost 871,000 of those cars located in the U.S. and Canada.
The cars have both primary and secondary hood latches. If the primary latch malfunctions, the secondary latch should keep the hood closed. However, the Altima secondary latch can remain in the unlatched position when the hood is closed, not a good thing if the primary latch fails for any reason.
The Nissan Altimas were recalled twice in the past for the same problem. In October 2014, Nissan recalled over 220,000 model year 2013 Nissan Altimas to repair the latches, then in March 2015, another 625,000 model year 2013-2015 Nissan Altima cars were recalled for the same hood latch problems.
The repairs performed in the previous hood latch recalls involved an inspection of the hood latch and the cleaning and conditioning of the latch joint by applying lubricant. The repairs didn't work.
Owners of the 2013 Nissan Altima have experienced what it's like when the hood decides to fly open while driving.
"While traveling at an unknown rate of speed, the hood latch failed and caused the hood to smash into the windshield. As a result, the front area of the vehicle was damaged."
"While driving at an unknown speed, the hood became unlatched and cracked the windshield before it detached completely."
"While driving approximately 30 mph, the hood of the vehicle erroneously unlatched and opened. The failure obstructed the driver's vision and created extensive body damage to the vehicle. During the failure, the secondary latch also malfunctioned and allowed the hood to open."
"While driving approximately 45 mph, the hood opened independently and damaged both front quarter panels."
The hood latch problem is blamed on a manufacturing error at a supplier. The automaker says the plating on the hood latch may not have been applied properly to the latch assembly and can cause a problem with the paint sticking to the latch. The loose paint can flake off and leave the metal exposed bare.
Once the metal hood latch assembly has lost its protective coating, the latch assembly can easily corrode and cause the latch to fail.
The recalled Nissan Altimas were built between March 6, 2012, to December 31, 2014.
Starting in February 2016, Nissan will start contacting all affected owners to once again bring the cars in, this time to replace the hood latch with a new latch. Even if the owner received a new latch as part of the repair for the previous recalls, the Altima will need another new latch.
If you own a 2013-2015 Nissan Altima and have questions, contact the automaker at 800-647-7261.
Read Nissan Altima complaints for the model years named in the recall: