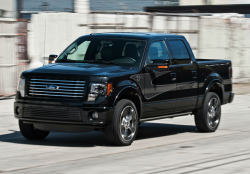 — An investigation into Ford F-150 electric vacuum pump failures has been closed by the government after Ford agreed to perform a "customer satisfaction program" to repair the pumps on the 2011-2012 model year trucks.
The National Highway Traffic Safety Administration (NHTSA) opened the investigation in June 2015 after complaints of increased stopping distances in traffic and increased brake pedal effort when starting the trucks cold. NHTSA upgraded the investigation in October 2015 which included about 250,000 trucks, all equipped with 3.5L GTDI engines.
Ford issued a technical service bulletin (TSB 15-0105) in 2015 that told dealers to replace the vacuum pump and install a new pump harness kit, but problems continued.
Investigators gathered data from Ford that showed 396 reports related to incidents of increased brake pedal effort or problems with the electric vacuum pumps. Included were seven crashes and over 1,800 warranty claims about brake performance. Another report indicated a possible injury caused when a vehicle was rear-ended by an F-150.
Ford says failures related to the vacuum pumps progressively get worst and drivers receive warnings of the problems by way of noise and vibrations before experiencing brake pedal problems.
NHTSA determined the majority of warranty claims involve owner concerns about noise and vibration from the left front fender area when the trucks are first started. However, continued operation of the F-150 with the noise present will eventually cause the pump to seize and fail.
NHTSA also found many consumers operated their vehicles with blown vacuum pump fuses without realizing the pumps had failed. Consumers who did experience braking performance problems reported a temporary hard brake pedal condition at start-up followed by more normal pedal feel after a few seconds.
NHTSA doesn't seem too concerned about the pumps because field data indicates consumers have plenty of time to know about the pump problems based on the noise, which leaves owners time to get the trucks repaired. In addition, reduced brake performance occurs at very low speeds limited to the moments after starting the truck.
NHTSA says testing demonstrates even when the worst-case conditions were simulated, the trucks could still be stopped with only moderate increases in brake pedal effort.
Ford F-150 Customer Satisfaction Program 15N05
In February 2016, Ford opened customer satisfaction program 15N05 that extends warranty coverage for the electric vacuum pumps in 2011-2012 Ford F-150 trucks equipped with 3.5L GTDI engines. The satisfaction program extends warranty coverage for up to 10 years of service or 150,000 miles from the warranty start date.
All affected F-150 trucks are eligible for the program through July 30, 2016, regardless of mileage.
NHTSA says the Ford program covers all repairs related to electric vacuum pump malfunctions, including excessive noise, vibration or a change in brake pedal feel while applying the brakes at cold start.
Owners of the 2011-2012 Ford F-150 should contact their dealer for all the details.
CarComplaints.com has complaints from owners of the 2011 Ford F-150, 2012 Ford F-150 and other model years of Ford F-150 trucks.