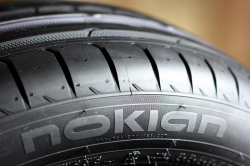 — Finland's Nokian Tyres apparently has been doing what some automakers have done when products might not pass the test. Cheat.
According to the Finnish newspaper Kauppalehti, Nokian has spent 10 years supplying certain tires for testing, then selling different tires of a lesser quality to consumers.
Nokian is known for its winter tires that are sold throughout Europe to a large segment of the population and sales have been good based on widely advertised tire ratings. The newspaper report cited interviews and internal emails at Nokian that suggests the practice has been going on for 10 years, something Nokian says is a problem within the industry.
According to Nokian, when testing organizations asked tire manufacturers to send tires for tests, industry activities were "dubious." However, many testing organizations now get test tires from tire stores, a way to make sure the tires that are tested are the same tires as sold to the public.
The company says it has been increasing transparency about its business practices while improving its ability to make ethical decisions. Furthermore, Nokian says although there have been mistakes in the past, the tires "have always been safe" and the cheating ended in 2015.
The tiremaker didn't say if watching the downfall of Volkswagen from a cheating scandal caused it to finally come clean about its tires.