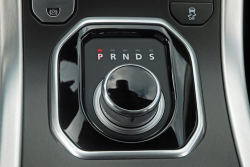 — About 39,000 model year 2012-2014 Land Rover Evoque SUVs and 2013 Jaguar XF sedans are under federal investigation after reports of vehicles rolling away while in PARK and causing property damage and injuries.
The National Highway Traffic Safety Administration (NHTSA) says the Evoque and XF are equipped with fully electronic rotary transmission switches to control driver gear selections. NHTSA says all the reports talk about the cars and SUVs rolling away after the gear selectors were moved to PARK, the engines were left running and the drivers exited the vehicles.
The owner of a 2013 Land Rover Evoque said they shifted to PARK with the engine turned on and exited the vehicle to open a garage door when suddenly the Evoque started moving forward. The roof of the SUV hit the top of the garage door and kept moving until the vehicle crashed into a wall.
A 2012 Land Rover Range Rover Evoque owner told a similar story, except this time the SUV crashed into another vehicle. The dealer diagnosed the problem as a faulty gear shift module that needed to be replaced with only 14,000 miles on the SUV.
The owner of another Range Rover Evoque suffered injuries when the dial shifter was put in PARK with the engine running. The driver says they exited the SUV to check a mailbox, leaving the vehicle door open.
The SUV started slowly moving so the driver ran back and tried to reach the brake pedal, but instead their leg got caught in the door as the SUV rolled backward. The driver fell on their back and the SUV rolled over them with their legs over their head, snapping five hamstring tendons and causing two fractures.
A total of four reports say people were injured and required medical attention, and one driver said they were pinned against a garage wall.
The preliminary investigation will determine if the cars and SUVs should be recalled or if there are no safety defects, the investigation will be closed without further action.
CarComplaints.com will update our website with results of the Range Rover Evoque and Jaguar XF investigation.