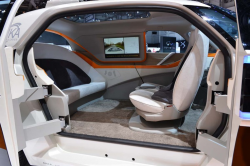 — Leaders in the fields of self-driving car technology asked members of Congress to work with the National Highway Traffic Safety Administration to create uniform nationwide laws concerning the technology.
In an era when the Obama administration wants to spend almost $4 billion over 10 years to see the reality of self-driving cars, manufacturers are worried if they will need to follow separate regulations based on separate state governments.
Proponents of the technology say it has the potential to drastically reduce traffic accidents and deaths by eliminating the primary cause of accidents: driver error. About 26,000 people died in traffic accidents during the first nine months of 2015, an increase of 9 percent compared to the same time period the previous year.
Executives from Delphi, General Motors, Google and Lyft answered questions from members of Congress about numerous subjects concerning self-driving cars.
Google, the company that says steering wheels and pedals will only make cars more dangerous, told Congress that new regulations have to be created to keep up with changing technology. Without updated federal auto safety rules, cars will always have steering wheels, pedals and human drivers that will cause accidents, injuries and deaths.
Self-Driving Cars Need New Regulations
A big concern is how regulations will be applied. Google argues the technology will never get anywhere if each state is allowed to create its own rules and regulations because operating a self-driving car across state boundaries will be an "unworkable situation."
The company says the only sane path is a nationwide unified approach, including in the matter of a licensed driver behind a steering wheel.
Google says 53 bills have been introduced in 23 states concerning self-driving cars and if all those bills pass, it would be chaos trying to keep up with different laws.
Some federal regulations now considered minor could keep a driverless car from being certified as legal. For example, federal safety rules say an inside rear-view mirror is mandatory, yet a true driverless car would never need that type of mirror.
Topping everything is the fact Google wants humans completely out of the driver's seat because, according to the company, human drivers can't be trusted to step in and take control of the cars.
California has proposed all test vehicles must have steering wheels, pedals and a human licensed driver sitting behind the wheel to take over in case of problems. Google says California should follow the lead of the National Highway Traffic Safety Administration which recently ruled a computer can be considered the driver.
Driverless Car Cybersecurity
The auto execs were happy to argue how current regulations are blocking the possibilities of self-driving cars, but when it came to questions concerning cybersecurity, company leaders sounded more like politicians. When asked to provide simple "yes or no" answers to questions about hacking and consumer privacy, the executives tried to answer the questions by not answering the questions.
At one point, Senator Edward Markey asked if the automakers, by answering yes or no, would support federal rules concerning electronic wireless security and safety.
Delphi said it hasn't determined whether mandatory standards are needed, while General Motors said it believes a "more flexible approach is preferable."
Google responded to the yes or no question by saying it has hundreds of people devoted to cybersecurity.
Robotics Expert: Self-Driving Cars Aren't Ready
Professor Mary (Missy) Cummings, director of Duke University's Humans and Autonomy Lab and Duke Robotics, testified she wasn't as thrilled about driverless cars as car manufacturers. Cummings said it's a mistake to deploy systems that are not ready for widespread use and the way the technology is now, it's absurd to consider removing a human from the driver's seat.
Cummings knows a thing or two about technology as she was one of the U.S. Navy's first female fighter pilots before specializing in robotics and mechanical engineering.
Although she has no problems with developing self-driving cars, Cummings says going from "automated lane changing or automated parking to a car that can autonomously execute safe control under all possible driving conditions is a huge leap that companies are not ready to make."
Cummings says self-driving cars cannot yet handle weather such as rain, snow and even water standing on the road. She also has questions about how a self-driving car will react if it travels around a curve only to be greeted by a police officer standing in the road directing traffic.
Furthermore, the only witness who seemed to be concerned with hacking and consumer privacy was Cummings, who said a self-driving car is nothing more than "one big data-gathering machine." She testified the government doesn't have the staff or technological capabilities to set and enforce safety and privacy standards for automakers.
"Without proper security systems in place, it is feasible that people could commandeer self-driving vehicles (both in the air and on the ground) to do their bidding, which could be malicious or simply just for the thrill and sport of it."
Cummings also says hackers will always have a favorite electronic target in self-driving cars through the GPS navigation systems.
NHTSA recently said there are huge legal issues to contend with to allow a vehicle to be on the road without a steering wheel, but safety regulators have already said they expect some current regulations to go the way of the dinosaur. As for a timetable, NHTSA says it should have guidelines in place by July 2016.