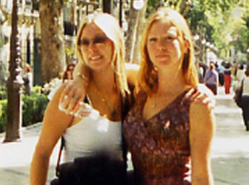 — The National Highway Traffic Safety Administration (NHTSA) has closed an "audit query" to investigate how well rental cars were repaired after a recall was ordered by a manufacturer. The investigation was opened over five years ago on three main automakers: Fiat Chrysler, Ford and General Motors.
Over the five-year period, the data showed rental car recall repairs were neither complete nor consistent. The seemingly never-ending investigation would likely still be open if not for a section of the Fixing America's Surface Transportation (FAST) Act, enacted by Congress in December 2015.
Raechel and Jacqueline Houck Safe Rental Car Act
California sisters Raechel and Jacqueline Houck were in a rented Chrysler PT Cruiser when it crossed the median and crashed into an 18-wheeler, killing both women.
Raechel Houck, 24, rented the 2004 Chrysler PT Cruiser from Enterprise Rent-a-Car the month after Chrysler mailed recall notices for 435,000 model year 2002-2005 PT Cruisers. The recall was to repair leaking power steering hoses that could result in a fire.
Enterprise Rent-a-Car first said it was driver error that caused the accident, with attorneys at one point suggesting Raechel Houck may have been suicidal. However, experts hired by the Houck family concluded Raechel lost control because of a power steering fluid leak.
In the end, Enterprise admitted liability and in 2010, a jury ordered the company to pay $15 million to the parents of Raechel and Jacqueline Houck.
Although Enterprise lost the case, rental companies weren't required to repair recalled cars before renting them to consumers. Some rental car companies voluntarily agreed to stop renting non-repaired cars due to the 2010 Enterprise court case. However, there was still no law that was applied uniformly across the U.S., something that has now changed with the passage of the Safe Rental Car Act.
The Safe Rental Car Act, passed as part of the FAST Act, ensures no vehicle can be rented if it hasn't been repaired under a safety recall. Once a rental car agency receives a recall notice from an automaker, the agency must get the car off the road until repairs are made.
The law applies to a vehicle with a gross weight of 10,000 pounds or less and rented (without a driver) for an initial period of less than four months.
Once the rental company receives a recall notice from an automaker, the rental company must "ground" any vehicles in its possession no more than 24 hours after receiving the recall notice. However, if the rental company has more than 5,000 of the recalled cars, the vehicles must be grounded no more than 48 hours after receiving the recall notice.
Much has yet to be seen how the new law will impact both rental agencies and car dealerships. Rental companies with less than 35 vehicles are exempt from the law, but for others the law could mean having parked cars on the lots for months.
First there is the issue of how long recalls can take, in many cases a period of months can pass before needed parts are available. Second, many recalls involve subjects such as a label that has incorrect tire pressure information printed on the label.
Under the law, it won't matter if the recall concerns engine fires or simple labels, all vehicles must be grounded until they are repaired.
An additional possible concern is the pressure it will put on dealerships to give repair priority to rental agencies over average consumers due to the money a rental agency can lose from parked rental cars.
Read more about the Raechel and Jacqueline Houck Safe Rental Car Act of 2015.