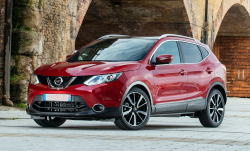 — Volkswagen maybe won't feel so bad concerning its illegal nitrogen oxide emissions, at least in South Korea where officials found 14 out of 16 diesel cars from various automakers are determined to be illegal.
The South Korean National Institute of Environmental Research opened an investigation into possible emission problems because of the chaos Volkswagen caused across the world.
South Korean regulators refused recall plans submitted by Volkswagen because VW couldn't prove how its proposed remedies would fix the cars. Volkswagen responded by saying it couldn't provide detailed evidence of changes or updates to software because the software hadn't been created.
Based on what is happening with VW, Korean officials sought to test additional VW models in addition to models from other automakers to determine if the nitrogen oxide emissions were legal. Results showed some of the nation's most popular vehicles are emitting nitrogen oxides far above legal standards.
Regulators say the top offender is the Nissan Qashqai, an SUV that is blowing out nitrogen oxides 10 times above legal standards. Next in the perp walk are the Hyundai Sonata and Kia Sportage that emit up to six times the legal level of nitrogen oxides.
Other vehicles above the legal limits at various amounts are the Mercedes Benz E220, Maserati's Ghibli, Volvo XC60 D4, Ssangyong Tivoli, Peugeot 3008, Renault QM3 and the Korean version of the Chevrolet Trax.
Other vehicles that tested above legal limits that are maybe more recognizable to U.S. residents are the the Korean versions of the Jeep Cherokee, Ford Focus, Volkswagen Touareg and the Porsche Cayenne.
The government says the only two vehicles that fall within legal nitrogen oxide limits are the Land Rover Range Rover Evoque and BMW 520d.
South Korean prosecutors are expected to take action against the automakers, certainly against the biggest offenders. However, government officials haven't indicated what they will do, if anything, to remedy the illegal vehicles and assure future models don't break emissions laws.