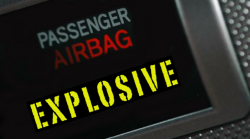 — The National Highway Traffic Safety Administration (NHTSA) has let the public know to expect Takata airbag recalls to continue for years with the announcement of additional recalls of 35-40 million airbag inflators. This is on top of the 29 million Takata airbag inflators already recalled in the U.S.
The airbags have killed at least 10 people in the U.S. and injured more than 140, all from sending shrapnel into vehicle occupants when the airbags deploy.
NHTSA says it made the decision after confirming the findings of three independent investigations into exploding airbag inflators, the metal canisters that fracture during airbag deployment.
The government says a combination of time, moisture and high temperatures cause the explosive chemical inside the inflators to become unstable and degrade over time. The chemical, ammonium nitrate, is used in the inflators as the propellant to deploy the airbags in a crash, but the chemical can burn too quickly and rupture the metal canister.
Exposure to humidity and changes in high temperatures alter the chemical compound, at least in airbags that don't have a drying agent called a desiccant, a separate chemical used to absorb moisture. The 35-40 million airbags that will be recalled are not equipped with the desiccant.
NHTSA says this latest expansion will occur in phases between May 2016 and December 2019, with the first recalls to be determined by the age of the inflators and their exposure to high humidity and temperatures.
The expanded recalls will bring in automakers that haven't been part of previous Takata recalls, including Fisker, Jaguar Land Rover and Tesla, bringing the number of automakers involved to 17.
Safety regulators say the Takata recall is the largest and most complex recall in the history of the country and the process will take time to complete. Although the expanded recall includes only airbags without the drying agent, Takata must still provide a testing plan for airbag inflators that do contain a desiccate.
NHTSA says the company must prove the desiccated inflators are safe by December 31, 2019, or those inflators will also be recalled.
The government is working with all affected automakers to determine which vehicles will be recalled.
CarComplaints.com will update our website with the latest recalls you can read here.