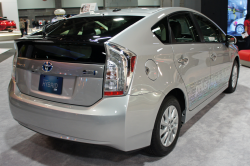 — Toyota is recalling nearly 3.4 million vehicles worldwide to fix problems related to airbags and cracked fuel tanks, with most of the vehicles located outside the U.S.
About 1.4 million Toyota and Lexus vehicles worldwide will be called back to dealers to repair curtain shield airbags located in the roof rails. The automaker says about 482,000 of the cars are in the U.S.
The 2010-2012 Toyota Prius, 2010-2012 Prius Plug-In Hybrid and 2011-2012 Lexus CT 200h vehicles are equipped with curtain shield airbags in the driver-side and passenger-side roof rails.
The automaker says the inflators inside the airbags have two chambers welded together that could have small cracks in the area that joins the chambers. The cracks can grow over time and cause the chambers of the airbag inflators to separate and the airbags to partially inflate in a crash, or possibly even when the vehicles are parked.
According to Toyota, the airbags are manufactured by Sweden-based company Autoliv. The airbag company said seven reports have been filed indicating the curtain airbags deployed in parked cars.
The automaker says it's possible parts of the inflators could enter the vehicles and injure the occupants.
Toyota hasn't said more about the recall and the National Highway Traffic Safety Administration (NHTSA) hasn't released details, but Toyota and Lexus dealers are expected to install retention brackets on the curtain shield airbag inflators.
The repairs won't keep the airbag inflator chambers from separating but it should keep any part of the inflators from entering the vehicles.
The remaining recalled vehicles are located outside the U.S., mainly in Japan and China, all recalled due to possible cracks in the gas tanks.
Recalled internationally are the 2006-2015 Toyota Auris, Corolla, Lucas, Zelas and the Lexus HS 250h and CT 200h.
If you own one of the recalled vehicles and have questions, please contact Toyota at 800-331-4331.
CarComplaints.com has complaints about most of the vehicles named in the Toyota and Lexus recalls: