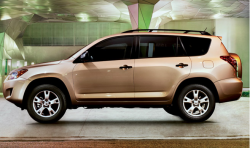 — Toyota is recalling 337,000 cars and SUVs for the third time for the same problem, except this time dealers will use a different repair procedure on the vehicles.
The 2006-2011 Toyota RAV4 and 2010 Lexus HS 250h vehicles were first recalled in 2012 after a federal investigation into rear suspension arm assembly failures on both the left and right sides. Some owners said the failures occurred while driving and caused the vehicles to go out of control.
Toyota blamed the problem on rear suspension arm nuts not tightened to specification that allowed excessive play at the threaded part of the arm. Rust would then build up causing the rear suspension arm to separate.
The repairs sounded good to owners until September 2013 when Toyota said the vehicles were recalled again for the same problem. That recall had dealers fixing 780,000 model year 2006-2011 RAV4 and model year 2010 Lexus HS 250h vehicles.
Dealers were told to inspect the tie rods and replace any that had rust or corrosion on the alignment adjustment threads. Then all rear tie rods were encased in an epoxy to prevent future damage.
By this time owners have to be tired of the routine but Toyota says the 337,000 cars and SUVs this time will have both rear suspension arm assemblies replaced, then an epoxy will be applied to prevent the arms from moving around.
The National Highway Traffic Safety Administration hasn't released additional recall details such as when the recall will begin, but owners can always contact Toyota at 800-331-4331.
The Toyota RAV4 and 2010 Lexus HS 250h recall is expected to begin September 30, 2016. Toyota dealers will replace both rear suspension arms and encapsulate the locknuts.
Owners may contact Toyota customer service at 800-331-4331 and use recall number G0V for Toyota vehicles and GLK for Lexus vehicles.
Read complaints about the Toyota and Lexus vehicles named in the recall: