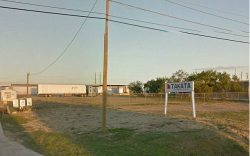 — Takata airbag-related explosives have claimed another life, but this time the victim wasn't near a vehicle. Lucila Robles was killed when a tractor-trailer transporting Takata airbag supplies crashed and exploded while in route to a warehouse in Eagle Pass, Texas.
The truck, which originated from a Washington Takata plant, crashed on a curve and triggered the massive explosion that killed Robles and injured four vehicle occupants. The trailer was loaded with Takata airbag inflators and ammonium nitrate, the explosive chemical at the heart of the airbags that have killed at least 14 people worldwide.
The woman, who was in her late '60s, was in her Quemado home when the 2 a.m. crash and explosion leveled her residence.
Her house was completely demolished as if bombed from the air, leaving searchers scanning the area after early reports said someone was seen leaving the property. However, Robles was discovered two days later amidst the smoldering ruins and later identified through dental records.
The 20-year-old truck driver and his passenger escaped from the truck before it exploded. Both were transported to a hospital, along with two people who had the bad luck of traveling on the road when the crash occurred.
Residents say the explosion was felt across the border and numerous people reported broken windows in addition to burned trees and airbag parts scattered two miles from the crash site.
Local media report a large crater was created by the blast which took out wide areas of electrical power and caused water lines to rupture. Phone and Internet services were down in a five-city area and roads were closed as a search was conducted for the woman.
Investigators don't know why the truck crashed and exploded, but Takata says a subcontrator was responsible for transporting the cargo. Of importance will be how the ammonium nitrate was packaged and placed in the trailer, but a Takata representative says all regulations were strictly followed.
The company says it's cooperating with local, state and federal investigators to determine exactly what occurred.