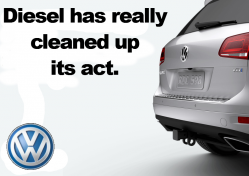 — Germany has given Volkswagen the green light to fix illegal emission systems, at least for one pickup truck called the Amarok. The German Federal Motor Transport Authority gave final approval for the 2-liter Amarok after VW said it could fix the trucks with a 30-minute software update.
VW has said millions of 1.2-liter, 1.6-liter and 2-liter diesel vehicles are equipped with illegal defeat devices that alter emissions readings during official emissions tests. The automaker believes the 1.2-liter and 2-liter diesel engines will need only a software update that will take about 30 minutes per vehicle to complete.
For 1.6-liter cars, a software update will be applied and a tube called a "flow straightener" will be installed in front of the air mass sensor of the engine. This will allegedly "calm the swirled air flow" and help to measure the accuracy of the air mass sensor.
The fix for the Amarok is the first granted by German authorities while approvals for other VW models are under examination. Although it's a small start toward the 11 million VW diesel vehicles that need repairs, consumers in Germany are having better luck than owners in the U.S.
About 600,000 Volkswagen owners in the U.S. are still waiting for repairs after the California Air Resources Board and the Environmental Protection Agency rejected Volkswagen's plan to fix the cars.
Volkswagen's "Clean Diesel" Investigation
Three German media outlets are reporting many staff and managers at Volkswagen knew about the emissions defeat devices since 2006.
Germany's Sueddeutsche Zeitung newspaper said contrary to VW's early reports that only a few engineers were responsible for the illegal software, many managers knew the software was needed to meet strict environmental regulations, especially in the U.S.
In one case, an insider tried to blow the whistle to an outside senior manager in 2011, but the manager didn't act on the information.
It's thought the employee who admitted to the scheme is someone who took advantage of an amnesty program the automaker created to get employees to break their silence.
When asked about the German media report, a Volkswagen representative said they wouldn't comment on "speculation" and the internal investigation still continues.