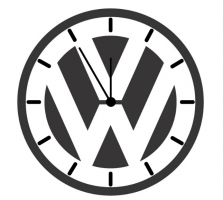 — Volkswagen owners are running out of patience as VW ran out of time to answer how it will fix about 600,000 diesel cars in the U.S. However, it seems time is on the side of VW as a federal judge moved forward the hands on the deadline clock and gave VW an extension.
U.S. District Judge Charles Breyer says VW has until April 21 to provide a comprehensive proposal on how the automaker will get the illegal vehicles off the roads. Those vehicles have illegal software called "defeat devices" that for the past seven years have cheated official emissions testing.
With 600,000 vehicles emitting up to 40 times the legal limit of nitrogen oxide emissions, the judge says he will schedule a trial if Volkswagen doesn't provide a final fix for the vehicles. The "trial" won't require a jury based on California law, so the judge will play both judge and jury.
Judge Breyer says a trial shall come to pass if VW doesn't explain exactly the names and numbers of vehicles that will be repaired by specific dates, details about vehicles that cannot be repaired adequately and details concerning any vehicles that will need to be bought back from VW owners.
The judge granted VW the extension after agreeing the automaker made significant progress toward a resolution, but VW shouldn't expect any further extensions.
The automaker says it's possible some cars will be bought back from consumers because it might be cheaper than trying to remedy the problems. The 2-liter and 3-liter engines may require completely separate repair remedies that could drastically alter the fuel economy and performance and buying the cars from consumers may be the smartest thing to do.
Any emissions fix will need to be approved by the Environmental Protection Agency and the California Air Resources Board before the public will see any vehicles recalled.
VW's Problems Extend to South Korea
Volkswagen hasn't had much more success in South Korea concerning plans to recall illegal cars. South Korea's Ministry of Environment rejected Volkswagen's plan to fix about 125,000 diesel vehicles equipped with defeat devices to cheat emissions tests. Officials said the recall plan isn't good enough and Volkswagen must provide more details about how the illegal vehicles will be repaired.
Korean regulators said Volkswagen failed to show examples of software that will positively correct the emissions systems. In response, VW said it didn't provide software details because the software hasn't been created yet.
Days after VW's proposal was rejected, South Korean prosecutors opened an investigation to determine if the automaker cheated on emissions tests on 1.6-liter EA 288 diesel engines. Those engines power the Audi A1, A3 and the Volkswagen Golf, all vehicles the automaker previously said did not contain illegal defeat devices.
Currently the only cars affected by emissions cheating in South Korea are vehicles equipped with EA 189 engines, an older engine compared to the EA 288.
The emissions tests will be conducted by the South Korean National Institute of Environmental Research to determine if the vehicles meet Euro 6 emissions standards.