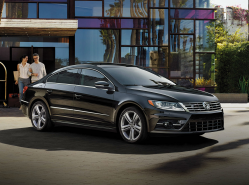 — Volkswagen may be preparing to pay out about $15 billion in its emissions scandal, but the automaker still must answer for basic defects by issuing recalls.
VW says more than 5,600 model year 2016 Volkswagen CC, Golf R, Tiguan and eGolf cars have problems with rear child door locks. Vibrations to the vehicles can cause the rear child door locks to disengage and allow a child to open a rear door while the vehicle is moving.
When the child safety lock is properly engaged, a rear door can only be opened from the outside but the defect means even vibrations caused by opening or closing the doors can cause the door locks to deactivate.
VW says a molding problem caused the locking mechanism to be improperly manufactured causing the position retaining mechanism inside the door lock to break. According to Volkswagen, the only warning a driver may have is a change in the feel of the rear locks.
The recalled 2016 CC vehicles were manufactured January 12, 2016, to February 3, 2016, the 2016 Golf R and Tiguan vehicles were built November 25, 2015, to January 28, 2016, and the 2016 e-Golf electric cars were manufactured November 25, 2015, to January 11, 2016.
Volkswagen hasn't released information about when the recall will begin. VW dealers will need to replace the rear child door locks in the affected vehicles, but until then owners may call the automaker at 800-893-5298 and ask about recall number 58C9.
CarComplaints.com has owner-reported complaints about the Volkswagen cars named in the child door lock recall: