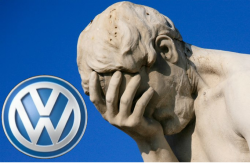 — The California Air Resources Board (CARB) has rejected a proposed recall plan to fix emissions problems in 3-liter Audi, Porsche and Volkswagen vehicles. The 3-liter vehicles have "auxiliary emission control devices" and "defeat devices" that were concealed for at least the past seven years.
The devices are illegally used to alter emissions levels to make the vehicles appear to pass all nitrogen oxide emission standards, when in reality the vehicles emit up to nine times allowable levels.
Although those are better numbers than the 475,000 diesel vehicles that emit up to 40 times the legal levels of nitrogen oxides, CARB says the 3-liter vehicles still must be repaired or removed from the streets.
There are about 85,000 of the following 3-liter diesel vehicles in the U.S. and 16,000 of those are in California.
2009-2016 Audi A6
2009-2016 Audi A7
2009-2016 Audi A8
2009-2016 Audi Q5
2009-2016 Audi Q7
2013-2016 Volkswagen Touareg
2013-2016 Porsche Cayenne
Volkswagen recently told a California court the automaker believed the 3-liter diesel vehicles could be adequately repaired, so owners shouldn't be counting on a buyback program such as the one offered to owners of 2-liter vehicles.
CARB's recall rejection may change all that as CARB and the Environmental Protection Agency continue to consult with Volkswagen. If VW decides a buyback offer is the best option, it still leaves the question what will occur if an affected owner decides they want their vehicle repaired.
CARB says VW's proposed 3-liter recall plans are "incomplete and deficient in a number of areas" and fall short of meeting the legal requirements necessary to get the vehicles certified as legal.
California authorities blasted VW for failing to specifically and completely describe the fixes in their proposed recall plan that would allow CARB to even evaluate whether the fix could be successful or is even technically feasible. In addition, California officials say there is no evidence that Volkswagen's recall proposal would not cause greater emissions problems.
CARB also says VW's recall plan does not provide sufficient data concerning what the proposed fixes would have on the engine, drivability, fuel economy and all related emission control technologies. If that isn't bad enough, California regulators say the recall plans couldn't be completed fast enough even if the plans were approved.
Volkswagen's next obstacle is August 25 when the automaker must tell U.S. District Judge Charles Breyer how VW plans on getting the 3-liter cars legal or off the roads.