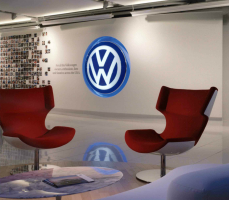 — Volkswagen has jumped another hurdle as it slowly re-starts production at six plants after contract disagreements with two suppliers left about 28,000 VW employees idle.
After a marathon 20-hour negotiation session that went through the night, VW and its suppliers, CarTrim, and ES Automobilguss, agreed to settle their differences and get operations back on track.
The contract issues were resolved one day after the automaker said contract talks broke down and left the company with no choice but to halt production of the Volkswagen Golf and Passat. Thousands of jobs were temporarily affected in the production of engines, transmissions, chassis, exhaust systems and even plastic parts.
Volkswagen said a district court issued injunctions demanding the suppliers start doing their jobs, but CarTrim and ES Automobilguss didn't budge. VW claimed the companies ignored the court after ignoring their obligations to VW, but both suppliers said none of the problems would have existed if the automaker wouldn't have canceled certain contracts without explanation or compensation.
Both suppliers say the contracts are worth tens of millions of euros and the contracts wouldn't have been canceled in the first place if VW wouldn't be in such a mess with its emissions scandal.
The suppliers said they will resume delivering parts to the shuttered assembly plants and will continue to work with the automaker for the next six years.
VW Wants Investor Lawsuit Tossed Out
Volkswagen's supplier mess may be clearing up, but the automaker still has many problems awaiting in court, as VW said it wants a federal judge to dismiss securities lawsuits filed after investors said they lost money because of VW's emissions cheating that went on at least seven years.
U.S. District Judge Charles Breyer was asked to dismiss the securities suits after VW said the lawsuits, filed by lead plaintiffs the Arkansas State Highway Employees' Retirement System and the Miami police pension fund, are without merit. Attorneys for the automaker argue any alleged problems with investors shouldn't be placed before a judge or jury, at least not in the U.S.
The lawsuits accuse VW of knowing its vehicles were equipped with emissions "defeat devices" used to fool official emissions tests. Once the tests were concluded, the cars emitted up to 40 times the amount of nitrogen oxides as allowed by law.
Although 2-liter "clean diesel" owners will finally see relief in the form of vehicle buybacks, investors say they have watched as stock prices dropped because of VW's deception.
Lawyers for former CEO Martin Winterkorn and Herbert Diess, chairman of the board of management, claim the U.S. court system is not the place to argue about investor issues because those problems should be reserved for German courts.
VW says everything issued to investors came out of German headquarters and legal complaints filed in the U.S. "do not satisfy elements of a U.S. securities claim." In addition, attorneys for Winterkorn say the former CEO hasn't even visited the U.S. since July 2015, which was before the emissions chaos ensued.
Judge Breyer is scheduled to hold a hearing about the matter on December 16, 2016.