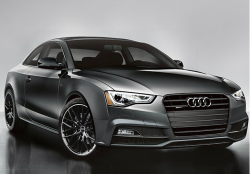 — Audi is recalling the 2013-2016 Audi A5 Coupe, A5 Cabriolet, A4 Sedan, A4 allroad and Q5 to keep the 216,440 vehicles from catching on fire due to overheating and melting wires.
Audi says corrosion inside the electrical connectors for the auxiliary heaters can cause the heater wires to melt from overheating. In addition to the heater failing, there is a chance of a fire from the melting wires.
Only vehicles with auxiliary heaters produced between April 2011 and May 2015 are affected due to the material composition of the part. Up until March 2011, a combination of tin and silver was used for the electrical connector within the auxiliary heater.
But in April 2011, the supplier replaced the silver with tin, but then went back to using the tin and silver combination in June 2015.
Audi says the corrosion can occur from mechanical strain on the electrical connectors and tiny movements may cause corrosion and fretting. Tin-only coated connectors are less resistant to this condition and increased resistance may occur and lead to increased temperatures.
Audi apparently knew of problems in February 2015 when it received complaints about auxiliary heaters, something that caused Audi engineers to investigate both internally and with the supplier.
In June 2016, Audi decided to offer a "service action campaign" to update the software for the climate control modules, but the automaker kept investigating. The decision was finally made to replace the heaters in addition to updating existing software.
The new replacement parts have electrical plug connectors made of both tin and silver, so dealers will replace the auxiliary heaters, and for vehicles that have not yet had software updated, that software will be updated.
Audi doesn't know when the recall will begin, but owners with questions should call Audi at 800-893-5298. The recall numbers are 80C5 and 80C6.