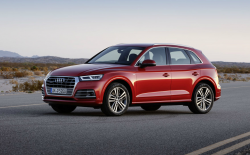 — Audi is expanding a previous recall involving 2013-2017 Audi Q5 and 2013-2017 Audi Q7 vehicles with fuel pump flanges that can leak gas, leading to the possibility of fires. More than 240,000 vehicles are part of the recall, expanding upon the 2016 recall of 143,200 SUVs.
In the 2016 recall, Audi said Q5 and Q7 owners were complaining about the smell of gas in the SUVs. Engineers found that small cracks in the fuel pump flanges could leak fuel, but the automaker couldn't find a root cause for the problem.
Even today, Audi isn't sure what is causing the cracks, but engineers have indications that an outside liquid material can corrode the structure of the flange.
In addition to the 2016 recall, Porsche Macan SUVs suffer from the identical fuel pump flange problems, forcing the automaker to recall the SUVs less than two weeks ago.
The Audi Q5 and Q7 recall should begin July 2, 2017, when dealers will replace the fuel pump flanges if cracks are noticed. If no cracks are visible, dealers will add a protective film to the flange area.
Owners may contact Audi at 800-253-2834 and use recall number 20Z8.
Audi A3 S tronic and Quattro S tronic Recall
A separate recall has more than 2,000 Audi vehicles recalled because they are equipped with incorrect safety certification labels. The 2015 Audi A3 1.8T FWD S tronic and 2.0T Quattro S tronic have labels with the wrong production dates, something that may be a problem when people look for manufacturing dates.
Audi says federal standards concerning the labels specifically say:
"Month and year of manufacture: This shall be the time during which work was completed at the place of main assembly of the vehicle. It may be spelled out, as "June 2000", or expressed in numerals, as "06/00".
Audi dealers will need to install new labels over the wrong labels, but the automaker doesn't know when that will happen.
Owners with questions about their labels should call 800-253-2834. Audi's number for this recall is 51F5.