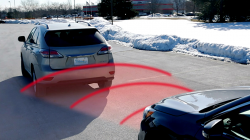 — Only four of 20 automakers equipped more than half their 2017 models with automatic emergency braking (AEB), a technology that has the potential to greatly reduce rear-end crashes, injuries and deaths.
Automatic emergency braking uses a combination of radar, lidar (reflected laser light) and cameras for a forward collision warning system that gives a driver audio or visual warnings that a forward collision is near.
Crash imminent braking automatically applies the brakes if the driver doesn't respond to the warnings, and dynamic brake support applies supplemental braking when regular braking isn't enough to avoid a collision.
Research conducted by the Insurance Institute for Highway Safety shows automatic emergency braking reduces rear-end crashes by 39 percent on average, a technology capable of erasing hundreds of thousands of rear-end crashes.
Instead of creating regulations and mandating that new vehicles be equipped with AEB, the National Highway Traffic Safety Administration (NHTSA) allowed 20 automakers to voluntarily agree to equip new passenger vehicles by September 1, 2022.
Those 20 manufacturers include Audi, BMW, Fiat Chrysler, Ford, General Motors, Honda, Hyundai, Jaguar Land Rover, Kia, Maserati, Mazda, Mercedes-Benz, Mitsubishi Motors, Nissan, Porsche, Subaru, Tesla Motors, Toyota, Volkswagen and Volvo.
As for the largest number of 2017 vehicles that come standard with AEB in the U.S., Toyota takes first place at 56 percent of its models, totaling 1.4 million vehicles. General Motors has about 551,000 of its 2.8 million vehicles equipped with the technology and Honda has 492,000 of its 1.6 million cars equipped with AEB.
Tesla has the greatest number of its models equipped with AEB, nearly 100 percent, but the feature was deactivated on some vehicles for part of 2017. Mercedes-Benz equipped 96 percent of its 2017 vehicles with standard AEB, while other automakers haven't made a dent in the voluntary process.
2017 vehicles with AEB as standard equipment (light-duty vehicles: 8,500 lbs)
Tesla - 99.8 percent
Mercedes-Benz - 96 percent
Volvo - 68 percent
Toyota - 56 percent
Honda - 30 percent
Hyundai - 9 percent
Kia - 5 percent
Vehicles produced with AEB (light-duty vehicles: 8,500 lbs)
Audi - 73 percent
BMW - 58 percent
Subaru - 47 percent
Volkswagen - 36 percent
Maserati/Alfa Romeo - 30 percent
Mazda - 24 percent
General Motors - 20 percent
Nissan - 14 percent
Fiat Chrysler - 6 percent
Mitsubishi - 3 percent
Ford - 2 percent
Jaguar/Land Rover - 0 percent
Porsche - 0 percent
Although the government talks in terms of automakers making progress, auto safety advocates say leaving important lifesaving technology to "voluntary agreements" is proof the automakers control NHTSA, the agency tasked with protecting the safety of vehicles and occupants.
With a voluntary agreement, the automakers can't do anything wrong, can't break any laws and don't have to answer for broken promises. In addition, no automaker can be punished for violating an agreement that is voluntary.
Federal safety regulators say there is no need to force automakers to equip cars with automatic emergency braking because taking a hands-off approach will allegedly allow innovation and advancements in technology. However, NHTSA hasn't said how making AEB mandatory would interfere with the advancement of technology.
In a joint statement about the voluntary agreements, Democratic Senators Edward Markey and Richard Blumenthal said, "From seatbelts to catalytic converters to airbags to fuel economy standards, automakers have proven time and time again that they do nothing voluntarily."
The Center for Auto Safety (CAS) says federal safety regulators are allowing the auto industry to pick and choose which new cars will contain AEB technology, doing nothing more than "playing roulette with the lives of consumers who cannot afford safety as a luxury."
CAS says that without a mandate for AEB, "more lives will be lost than necessary in the interest of putting profits over people and shareholders before safety."
In January 2016, three consumer advocacy organizations petitioned NHTSA to require the technology in vehicles because of the safety benefits, but NHTSA responded by saying the voluntary agreements were good enough.