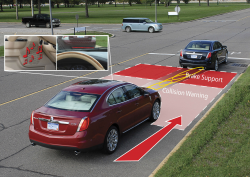 — The National Highway Traffic Safety Administration (NHTSA) says it doesn't need to force automakers to equip cars with automatic emergency braking systems because 20 manufacturers have voluntarily agreed to install the technology.
In January 2016, three consumer advocacy organizations petitioned NHTSA to require the technology in vehicles because of the safety benefits. The petition was filed by Consumer Watchdog, the Center for Auto Safety and Joan Claybrook, former NHTSA administrator and now president emeritus of Public Citizen.
The petition asked NHTSA to mandate the technology which has been proven to lower insurance injury claims by 35 percent or more. The consumer groups say NHTSA is throwing aside its duties to protect consumers by allowing automakers to decide on their own whether or not they use the technology, meaning there will be no minimum federal standards to meet.
Automatic emergency braking comes under the umbrella of three functions that use combinations of radar, lidar (reflected laser light) and cameras for their systems. All systems include a "forward collision warning" system that gives a driver audio or visual alerts that a forward collision is near.
Then "crash imminent braking" goes beyond the forward collision warning system by automatically applying the brakes if the driver doesn't respond to the audio or visual warnings. And then "dynamic brake support" applies supplemental braking when regular braking isn't enough to avoid a collision.
Research conducted by the Insurance Institute for Highway Safety shows automatic emergency braking reduces rear-end crashes by 39 percent on average and if the technology would have been available in 2013, there would have been at least 700,000 fewer rear-end crashes that year alone.
The consumer groups say the technology is too important to leave for a "volunteer" agreement that has no standards, oversight or punishment for violations.
NHTSA had up to 120 days (May 12, 2016) to approve or deny the petition but ignored the subject, so the consumer advocates filed suit to force safety regulators to respond to the petition.
Safety regulators responded by denying the petition, telling the advocates incentives to install the technology is enough and will allow "continued innovation and technological advancement."
NHTSA also says changes to its New Car Assessment Program (NCAP) has been made and those changes leave open the option that federal rules may eventually be created.
"As manufacturers respond to NCAP and carry out their commitments, the agency is continuously monitoring their efforts to assess whether additional steps, including the possibility of a rulemaking to establish a new standard, might be needed in the future to ensure realization of the potential benefits from the full array of automatic emergency braking technologies." - NHTSA