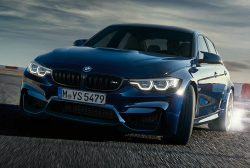 — A BMW M3 lawsuit will move forward after a federal judge said the plaintiffs presented enough evidence of possible problems with the S65 engines.
The judge said BMW must face claims of violating consumer protection laws and fraud in concealing problems that cause metal debris to mix with the oil, leading to engine failure and a huge expense for owners.
The lawsuit was filed after owners complained about BMW M3 S65 engines failing because of metal debris created from the connecting rod bearings. The plaintiffs claim the BMW S65 engines have defects that include a lack of engine lubrication, problems with the clearance between the rods and issues with the bearings.
The lawsuit alleges the rotating assembly is a safety risk due to failure of the bearings that can cause the engine to fail while driving at any speed due to the bearings not having enough lubrication. In addition, the steering can allegedly fail because the hydraulic power steering is driven directly by the rotating assembly.
One of the owners says his M3 S65 engine started knocking due to the connecting rod bearings and paying $2,000 to replace the engine was the only way to keep the vehicle going. The lawsuit alleges M3 owners complain about noises and knocking coming from the engines, symptoms that BMW dealers said were normal.
The plaintiffs claim when the connecting rod bearings and main bearings start to fail, metal debris from the bearings is circulated in the oil throughout the engine.
The class-action lawsuit includes former and current owners and lessees of 2008-2013 BMW M3 cars with S65 engines.
The lawsuit has been a ping-pong tournament in court as the judge had earlier dismissed certain claims against BMW, but allowed the plaintiffs to amend their complaint. The second amended lawsuit included enough details to convince the judge that BMW should have known about the problems.
The judge ruled that complaints posted online about the engine problems don't necessarily mean that BMW knew about the alleged problems. But taking those complaints into considering with other evidence presented by the plaintiffs is enough to indicate BMW should have known about rotating assembly problems when the plaintiffs bought their vehicles.
The BMW M3 engine failure lawsuit was filed in the U.S. District Court for the District of New Jersey, Newark Division - Afzal v. BMW of North America.
The plaintiffs are represented by Goldman Scarlato & Penny PC, McCune Wright Arevalo LLP, and Thorsnes Bartolotta McGuire LLP.
CarComplaints.com has complaints about the BMW M3 and other BMW cars.