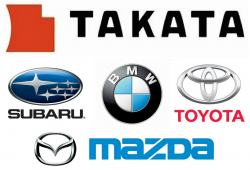 — BMW, Mazda, Subaru and Toyota have reached agreements to resolve Takata multidistrict litigation filed by owners of numerous models affected by Takata airbags at risk of exploding when they deploy.
While the agreements haven't been finalized by the court, both sides are confident everything is in place, to the point parts of the agreements will begin before the litigation is finally approved by the judge.
The programs offered in these agreements are intended to increase recall remedy completion rates for Takata airbag inflators, among other benefits for owners.
Those completion rates are a concern to many owners and to members of Congress who just days ago wrote the National Highway Traffic Safety Administration (NHTSA) about their concerns. With about 70 million airbag inflators scheduled to be replaced by the end of 2019, about 15.5 million are done and out of the way, but some automakers have replaced less than 2 percent of their affected airbag inflators.
NHTSA and outside investigators determined certain factors affect the risk that a Takata inflator will rupture and kill or injure someone. The age of the airbag inflators and the geography of where the vehicles are located has much to do with the rupture risk.
At high risk are cars in areas of high absolute humidity due to moisture destabilizing the explosive chemical ammonium nitrate that is used to deploy the airbags.
Where the airbag inflators are located also can determine risk as driver-side inflators are more likely to cause fatal injuries than passenger-side inflators. Increasing the risk is when both driver and passenger sides need their Takata inflators replaced.
Based on those risk factors, recalled vehicles are divided into four priority groups:
Priority Group 1: The highest risk vehicles from model years 2008 or older that have spent time in high absolute humidity regions and have either a recalled driver-side inflator or both driver-side and passenger-side inflators.
Priority Group 2: NHTSA calls this group the intermediate-high risk vehicles, generally including all vehicles with driver-side inflators that are not in group 1 and vehicles with certain passenger-side inflators that have a higher rupture frequency and have spent time in high absolute humidity regions.
Priority Group 3: High risk vehicles, generally including vehicles outside high absolute humidity regions with only passenger-side inflators, or those in humid regions with certain passenger inflators that have a lower risk of rupture.
Priority Group 4: Vehicles that will require an interim fix (a replacement inflator that may contain the same defect as the recalled inflator) because permanent replacement parts are not available. These vehicles are fourth priority because once the vehicles have been remedied with the interim parts, the risk of rupture is allegedly significantly reduced in the years just after the interim parts are installed.
Automakers must have all recalls completed for priority groups 1 through 3 by December 31, 2017, and priority group 4 must be completed by December 31, 2019.
BMW, Mazda, Subaru and Toyota Airbag Agreements
The agreements with BMW, Mazda, Subaru and Toyota came about after at least 16 people worldwide were killed by Takata airbags that turn into grenades when the airbags deploy, killing and injuring car occupants in what many times turned out to be minor fender benders. The Takata airbag recalls are the largest in history and affect more than 42 million vehicles in the U.S.
The agreements, once finalized, will total about $553 million from the four companies to be used for attorneys, rental car programs, to improve recall completion rates and to create reimbursement programs.
Out of the four, Toyota will write a check for the largest amount at about $278.5 million, followed by BMW at $131 million, Mazda will pay $76 million and Subaru will see about $68 million disappear from its bank account.
Under terms of the settlements, an administrator will be appointed who will oversee and handle programs to increase recall repair completion rates among affected vehicles made by BMW, Mazda, Subaru and Toyota. Although the settlement agreements haven't been finalized by the court, the recall programs will begin before final settlement approval is received.
One of the jobs of the administrator will be to determine who is eligible to file for out-of-pocket claims and possible residual payments to be reimbursed for expenses related to the airbag inflator recalls. Without going into many details, the settlements will give the administrator the right to determine the types of reimbursable costs and which owners will be eligible to receive payments.
The agreements also create a rental car loaner program, separate from any existing programs. Under the settlement terms, the four automakers will make rental or loaner cars available to customers upon request. The rental car program will begin 30 days after preliminary approval of the agreements for any customer who hasn't received replacement parts within 30 days.
Although agreeing to settle the lawsuits, the four companies say the agreements "do not contain or constitute any admission of liability or fault by the four automakers."