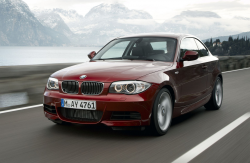 — BMW cars have CV joints that can break and leave drivers and their cars on the side of the road.
The rear driveshaft CV (constant velocity) joint transfers torque between the transmission output shaft and the rear driveshaft. BMW says a busted CV joint means no power to the rear wheels, something that could occur at any time and has occurred to owners more than once.
Recalled are about 8,750 of the following models:
2011-2012 BMW 135i Coupe
2011-2012 BMW 1 Series M Coupe
2011-2012 BMW 135i Convertible
2011 BMW Z4 sDrive 35i
2011 BMW 335i
2011 BMW 335d
2011 BMW 335i Coupe and Convertible
2011 BMW 335is Coupe and Convertible
2011 BMW 535i
2011 BMW 535i xDrive
2011 BMW 535i Gran Turismo
2011 BMW 550i xDrive Gran Turismo
2012 BMW 740i
2012 BMW 740Li
The National Highway Traffic Safety Administration contacted BMW in August 2016 about a customer who complained about a 2012 BMW 750i xDrive. The customer said the car suffered from a loss of power and a loud noise, so the automaker requested parts for inspection.
Engineers investigated the 750i and other models that could be affected and within two months determined the CV joint of the customer's 750i contained rivets that weren't strong enough.
BMW started a "service action" for 2012 7 Series all-wheel-drive vehicles manufactured between March and April 2011. Dealers were told to remove and replace the CV joints on about 970 vehicles.
However, in November 2016, BMW received another report about a 2011 335d involving a broken rear driveshaft that caused the vehicle to stop moving. The automaker also discovered damage to the interior and underbody of the vehicle and then found three more incidents of busted driveshafts that caused damage.
Engineers determined all the breaks were caused by weakened rivets used for the CV joints, leading BMW to leave behind the "service action" and order a full recall.
The CV joint recall should begin March 27, 2017. BMW dealers will check the production dates and inspect the CV joints and replace them if needed.
BMW owners with questions should call the automaker at 800-525-7417.