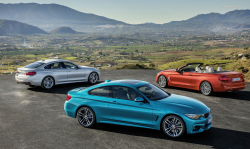 — BMW is recalling nearly 300 vehicles to replace airbag modules in 2017 BMW 430i, 430i xDrive, 440i, 440i xDrive, M4 and Rolls-Royce Dawn vehicles.
The problematic airbags are the seat-mounted side airbags with inflator initiators that may fail to ignite. BMW says the generant mix ratio in some igniters, manufactured by Autoliv, does not meet specifications, causing the igniters to malfunction and the airbags to fail in a crash.
The recall is expected to begin April 17, 2017, when dealers will start replacing the airbag modules.
Owners with questions should call BMW customer service at 800-525-7417.