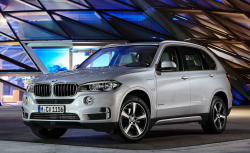 — BMW is recalling more than 3,500 vehicles to replace seat-mounted side airbag inflator modules that may fail to ignite during a crash. BMW names the recalled vehicles as the following:
2017 BMW 640i and 640i xDrive
2017 BMW 650i and 650i xDrive
2017 BMW M6
2017 BMW 535i and 535i xDrive
2017 BMW 430i and 430i xDrive
2017 BMW 440i and 440i xDrive
2017 BMW M4
2017 BMW X1 sDrive28i
2017 BMW X1 xDrive28i
2017 BMW i3
2017 BMW i8
2017 BMW Rolls-Royce Dawn
2017 BMW Mini Clubman Cooper
2017 BMW Clubman Cooper S
2017 BMW Cooper All4
2017 BMW Cooper S All4
2017 BMW Mini 4-Door Cooper
2017 BMW Cooper S
2017 BMW Mini 2-Door Cooper
2017 BMW Cooper S
2017 BMW John Cooper Works
2016 BMW 528i and 528i xDrive
2016 BMW 535i and 535i xDrive
2016 BMW 550i and 550i xDrive
2016 BMW M5
2016 BMW 535d
BMW received information in December 2016 about possible problems with the airbag module igniters, a problem bad enough that the supplier notified the National Highway Traffic Safety Administration (NHTSA). The supplier, Autoliv, contacted NHTSA because automakers in addition to BMW use the same defective igniters that will need to be recalled.
Autoliv says the airbag module igniters have a generant mix ratio that may not be up to standards and specifications, causing the igniters to fail and causing failure of the airbags to deploy.
BMW says it is unaware of any accidents or injuries related to the Autoliv airbags.
The Autoliv airbag recall will begin February 6, 2017, when dealers replace the airbag modules. Affected owners can contact the automaker at 800-525-7417.
A separate recall involves eight model year 2016 BMW X5 xDrive40e plug-in hybrid SUVs with transmissions that can shift into neutral without driver intervention.
BMW says the SUVs have "digital motor electronic" control units with loose electrical ground cables that can cause the voltage to be too low, resulting in the transmissions shifting to neutral.
The recalled 2016 X5 xDrive40e SUVs were built July 29, 2015, to September 9, 2015.
The recall should begin February 6, 2017. BMW dealers will tighten the loose ground cables, but owners with questions should call 800-525-7417.