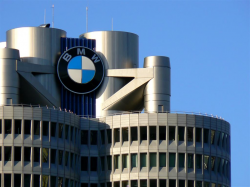 — BMW is recalling 85,300 vehicles to repair passenger airbag problems that can cause the airbags to fail in a crash.
The 2006-2010 BMW X3 2.5i, X3 3.0i and X3 xDrive30i vehicles are equipped with front passenger seat occupant detection mats manufactured by Continental Automotive Systems.
Those mats are used to determine if and how the frontal airbags deploy in a crash, but BMW says tiny cracks can occur in the mats because of people getting in and out of the seats.
The wear and tear causes tiny cracks to appear in the mats and a loss of electrical conductivity will cause the systems to fail. The front passenger airbags will completely deactivate, with the exception of the head protection airbag systems. A driver should see a warning light that indicates the airbag system is non-functional.
In April 2017, BMW was contacted by federal safety regulators concerning certain 2006-2008 vehicles where customers were complaining about airbag problems.
The automaker sent engineers to work to review warranty claims and parts sales and determined that seat occupant detection mats failed at times and worked other times.
BMW says the warranty claims were inflated because other problems were sometimes causing airbags to deactivate, but those problems were counted as defects in the seat mats. However, the automaker did learn the X3 SUVs appeared to have higher seat mat failures than other models.
To date, BMW hasn't received any reports of injuries or fatalities related to the faulty mats.
BMW says the recall should begin around November 20, 2017, when dealers will start replacing the front passenger seat occupant detection mats for free.
If you own a 2006-2010 BMW X3 2.5i, X3 3.0i or X3 xDrive30i and want to learn more, contact the automaker at 800-525-7417.
This occupant detection mats in the vehicles are an ongoing issue for BMW owners as this latest recall is the third to try to fix the problems. The vehicles were recalled in 2013 for the same problem, but the original recall was more than five years before that.