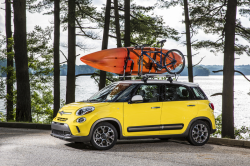 — Fiat Chrysler (FCA US) is recalling nearly 30,000 model year 2014 Fiat 500L cars with problems related to the gas pedals. The Fiat 500L can hesitate when the driver eases off the accelerator pedal and then pushes the pedal.
The automaker says the hesitation only occurs momentarily and can be resolved by completely releasing the gas pedal, then pressing on the pedal. FCA says it found the problem during a review of data received from the field.
"Twice driving on freeway we push gas pedal down to accelerate and car does nothing, wasn't sure if it was going to stop or ?? same thing happens when we're driving and want to speed up and for example pass a car or go through an intersection. The problem has been intermittent but the longer I drive the car the more frequently it's been happening." - 2014 Fiat 500L owner / Los Angeles, California
Hesitation problems in traffic can be trouble, but Chrysler says its data shows no related accidents or injuries.
About 25,600 recalled Fiat 500L cars are in the U.S. and another 4,080 are located in Canada.
Fiat dealers say they can fix the hesitation problems by updating the software calibration that helps control how the gas pedals function.
Chrysler didn't say when the recall will begin and the National Highway Traffic Safety Administration hasn't said a word, but CarComplaints.com will update this page when a recall date is announced.
Until then, owners of 2014 Fiat 500L cars should watch their mailboxes or call FCA at 800-853-1403.