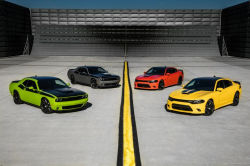 — Chrysler is recalling more than 1,200 cars because oil could spray all over the windshields and hot engine parts, possibly causing fires, or stalled engines if enough oil is lost. Additionally, a driver will have a tough time seeing through a windshield coated with motor oil.
Recalled are 2017 Dodge Challenger and 2017 Dodge Charger cars equipped with Hellcat engines and defective engine oil cooler hoses.
Chrysler received three warranty part returns in a two-week period that showed the same engine oil cooler hose failures, causing the Costa Rica supplier, Hutchings Automotive Products, to conduct testing of the hoses.
Hutchings tested oil cooler lines to determine if changing the oven temperature and curing time for the glue improved the joint where separations were occurring. The tests caused the engine oil cooler hoses to separate at the crimped joining of the chlorinated polyethylene hoses to the aluminum tubes.
The hoses came from lot number 2536 and testing from other lot numbers showed no hose separations. Additional tests showed the inner material of the hoses (part numbers 05181869AC, 05181876AD) was out of specification and the only option for fixing the problem was to replace the hoses.
Chrysler says it doesn't know of any crashes or injuries related to the defective oil cooler lines.
The recall should begin September 22, 2017, when Dodge dealers will replace the engine oil cooler lines in the cars.
If you own a 2017 Dodge Challenger or Charger and have questions, contact Chrysler at 800-853-1403 and request information about recall number T48.
CarComplaints.com has owner-reported complaints about the Dodge Challenger and Dodge Charger.