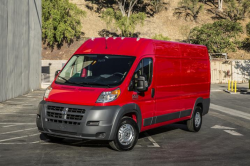 — Chrysler (FCA US) is recalling nearly 114,000 Ram ProMaster vans because they are equipped with the wrong airbag labels.
Chrysler says 2014-2017 ProMaster vans may have incorrect sun visor and dashboard labels, as well as owner's manual information, concerning the frontal driver and passenger airbags.
The incorrect information can cause an occupant to sit closer to the airbags than they should, increasing the risk of injuries if the airbags deploy in a crash. Chrysler says the current information and labels say the frontal airbags are "advanced airbags" when in reality they are non-advanced.
The vans are recalled because the incorrect airbag information is a violation of federal safety standards, so Ram dealers will need to correct the mistakes.
The van recall should begin June 9, 2017, when Ram dealers will begin to correct the sun visor labels, the dashboard (hangtag) label, the owner's manual and the user guide information.
Owners of the 2014-2017 Ram ProMaster vans may contact Chrysler at 800-853-1403 and make reference to recall number T24.
Read what owners say about Ram ProMaster vans or other Ram vehicles.