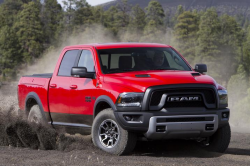 — Fiat Chrysler (FCA US) is recalling more than 1.2 million Ram trucks to fix side airbags and seat belt pretensioners that may fail in a crash. The problem is serious as the automaker says it knows of one death, two crashes and two injuries that may be related to the airbags and pretensioners failing to deploy.
Affected trucks include the 2013-2016 Ram 1500 and 2500 and the 2014-2016 Ram 3500 that may experience problems in rollover crashes.
Chrysler learned of the problem in December 2016 when attorneys notified corporate about a pending lawsuit involving a 2014 Ram 1500 that was involved in a rollover crash where the airbags and seat belt pretensioners failed.
An investigation was opened with the supplier to check the occupant restraint controller from the wrecked truck and so that engineers could check diagnostic trouble codes for the systems.
In March 2017, FCA engineers and the supplier determined that a trouble code used to disable the roll rate sensor data was set during the crash just prior to the rollover of the truck. Because today's vehicles depend on advanced computer systems, engineers had to track down exactly what disabled the sensor data.
Chrysler said the occupant restraint controller is where the problem occurred, all in less than a second, so any truck with that same controller could, in the right circumstances, suffer the same fate in a crash.
Engineers say if the bottom of the truck hits something hard enough, the impact will disable the side airbags and seat belt pretensioners and activate a warning light in the instrument panel. That light is a clear warning the sensor has failed, but FCA says restarting the truck should restore all systems.
A driver will know if restarting the truck fixed the problem because the warning light will not be illuminated.
In addition to the 1 million Ram trucks recalled in the U.S., another 216,007 trucks need repairs in Canada, 21,668 in Mexico and 21,530 outside North America.
Ram truck dealers will reprogram the occupant restraint control modules with software that improves the sensors once the recall begins on June 23, 2017. Ram drivers are urged to keep an eye on any related airbag warning lights, especially if the underbody of the truck takes a hard impact.
Concerned Ram 1500, 2500 and 3500 truck owners with questions should call Chrysler at 800-853-1403 and ask about recall number T25.