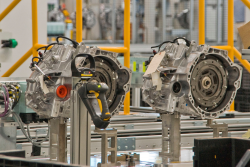 — A Ford dual-clutch transmission lawsuit alleges PowerShift transmissions installed in 2011-present Ford Fiesta, Focus and EcoSport models are defective and prone to premature failures.
Filed by 28 plaintiffs, the dual-clutch lawsuit alleges the vehicles suffer from a long list of problems including shuddering, slipping, bucking, jerking, hesitation while changing gears, premature internal wear, delays in downshifting and sudden or delayed acceleration.
The dual-clutch PowerShift transmission is a $1,095 option for Ford Focus and Fiesta models which Ford designed and marketed as a more advanced and fuel efficient alternative to a traditional manual or automatic transmission and offered it as the sole "automatic" option for the vehicles.
According to the lawsuit, Ford has replaced thousands, if not tens of thousands, of PowerShift transmissions, clutches, or both, due to early catastrophic transmission failure.
Traditional manual transmissions use a driver controlled clutch where the driver presses and releases a clutch pedal which engages and disengages the engine from the transmission.
In contrast, the typical automatic transmission frees the driver from operating the clutch through the use of a fluid-filled device called a torque converter. The torque converter substitutes for the manual transmission's clutch by transmitting power from the engine to the transmission.
While typical automatic transmissions offer more convenience, they are generally less fuel efficient and slower shifting than manual transmissions because the torque converter transfers power less efficiently than a clutch.
Ford allegedly marketed and sold its dual-clutch PowerShift transmission as a "best of both worlds" alternative by offering a manual transmission's fuel economy with the ease of operation and shift quality of an automatic transmission.
Although the transmissions are typically called "automatics," they are actually a set of computerized manual transmissions that lack torque converters, instead using two "dry" clutches to directly engage and disengage the engine with and from the transmission.
Similar "automated manual" transmissions on the market use "wet" clutches bathed in oil, but Ford's PowerShift transmission clutches lack the oil pumps and other components of a "wet" clutch system and instead operate "dry."
The plaintiffs claim the alleged defects cause premature wear to the transmission clutch plates and other components, causing early transmission failure and expensive repairs.
Ford allegedly knew about the defective transmissions as early as 2010 but failed to tell owners about the problems, leaving owners to find out only after they bought the vehicles.
Based on court documents, Ford issued multiple technical service bulletins (TSBs) to dealers but never directly notified consumers of known problems with the PowerShift transmissions, and further issued two "customer satisfaction programs" that offered useless repairs.
The plaintiffs claim even with repairs made under the customer satisfaction programs, consumers continued to experience the same dual-clutch transmission problems. In addition, the lawsuit alleges there is no way to fix the transmissions because Ford doesn't know of a way to make the repairs.
"...Ford prepared a separate series of intentionally sanitized documents for its customers to induce them into believing that their kicking, bucking, suddenly accelerating and sling-shooting vehicles were exhibiting normal driving characteristics." - Ford dual-clutch transmission lawsuit
The lawsuit alleges in 2010 and 2011, Ford issued several TSBs to its dealers acknowledging problems in the PowerShift transmissions.
For example, Ford's TSB from September 2010, covering the 2011 Ford Fiesta, informed dealers of "concerns such as no engagement or intermittent no engagement in Drive or Reverse when shifting from Park to Drive or Reverse, grinding noise during engagement, and/or a check engine light with transmission control module (TCM) diagnostic trouble code . . ."
Ford's TSB released on January 1, 2011, covering the 2011 Ford Fiesta, informs dealers of problems with the dual-clutch transmissions causing "a loss of power, hesitation, surge, or lack of throttle response while driving."
Throughout 2011, Ford continued to issue various TSBs covering the Ford Fiesta and Ford Focus vehicles which advised dealers of the continuing transmission problems.
For example, a Ford TSB released in September 2011 advised dealers to reprogram the transmission computer if 2011 Ford Fiesta owners complained about "hesitation when accelerating from a low speed after coast down, harsh or late 1-2 upshift, harsh shifting during low-speed tip-in or tip-out maneuvers and/or engine r.p.m. flare when coasting to a stop."
According to the lawsuit, despite spending over $550 million to build a new transmission manufacturing facility in Mexico to produce the Powershift transmission, Ford is now canceling the PowerShift program many years prior to its estimated end date.
The Ford dual-clutch transmission lawsuit was filed in the U.S. District Court For The Eastern District Of Texas, Sherman Division.
The 28 named plaintiffs are: Benjamin Ascensio, Caleb Barnes, Linda Bourland, Terrie Bumpus, Felton Burton, Teresa Byrd, Alvin Cearley, Alice Clark, Florinda Esparza, Ruby Granados, Taylor Harrell, Deborah Head, Joel Hinojosa, Sharon Johnson, Josh Lazette, Jamie Lopez-martinez, Michelle Pope, Daniel Reyes, Megan Rice, Teresa Rodriguez, Ivy Rosenberg, Juanita Sanches, Julian Santana, Bill Smith, Christine Tamez, Dawn Utsey, Staci Wyatt and Robert Zebrowski.
The plaintiffs are represented by Richard C. Dalton.
CarComplaints.com has owner-reported complaints about the Ford Fiesta, Ford Focus and Ford EcoSport.