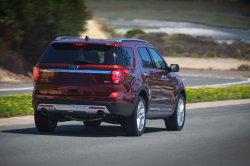 — Ford Explorer carbon monoxide and exhaust fume concerns will be tackled by the automaker as Ford announced "complimentary service" for 1.4 million model year 2011-2017 non-police Explorers in North America.
Ford insists the SUVs are perfectly safe to drive and the "complimentary service" is not an official recall. The automaker says an internal investigation "has not found carbon monoxide levels that exceed what people are exposed to every day."
When it involves carbon monoxide issues, Ford has made it a point to separate Ford Explorers sold to consumers and Explorers sold to police and fire agencies.
As it has in the past, Ford says carbon monoxide concerns in Explorer Police Interceptor SUVs are caused by unsealed holes and gaps from the installation of police equipment by third parties. That's something that doesn't apply to non-police models.
All the work creating holes for wires and other equipment was performed after Fold sold the SUVs, causing Ford to deny any wrongdoing concerning carbon monoxide in the police vehicles. But this didn't stop law enforcement officers from allegedly getting sick from carbon monoxide poisoning, and in some cases filing lawsuits blaming Ford for the problems.
However, in July 2017, the automaker announced a special program where engineers would inspect and seal holes and gaps in Ford Police Interceptors across the country, including sedans and Explorer SUVs. But the program didn't apply to consumer SUVs that were under a government investigation over concerns of exhaust fumes entering the vehicles.
The National Highway Traffic Safety Administration (NHTSA) opened an investigation into 2011-2015 Ford Explorers after customer complaints about exhaust fumes inside the vehicles. In addition, some customers were complaining of symptoms that matched effects of carbon monoxide exposure.
NHTSA later upgraded and expanded the investigation to include additional model years and discovered three alleged crash incidents and 41 injuries.
Ford sent safety regulators documents that showed the automaker received about 2,400 owner complaints, warranty claims and legal claims about the subject Explorers. Ford told NHTSA that previous technical service bulletins issued to dealers seemed to work because customer complaints decreased.
As for carbon monoxide levels, driving the SUVs with the throttles wide open still allegedly left the levels below Ford's internal standards.
Ford says the repair program will apply to all non-police 2011-2017 Explorers regardless of warranty status and mileage, with dealers performing the service between November 1, 2017, and December 31, 2018.
The repair procedures will involve replacing the liftgate drain valves, reprogramming the air conditioners and sealing the rear of the SUVs.
Most of the Explorers (1.3 million) are located in the U.S., but there are also 84,000 Explorers in Canada and about 24,000 in Mexico.
Ford has created a dedicated hotline for Explorer owners who have questions: 888-260-5575. Please use reference number 17N03.
Read owner-reported complaints about Explorer exhaust systems: