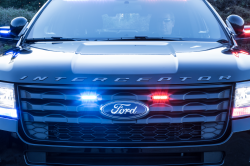 — Ford Police Interceptor carbon monoxide leaks will be repaired by Ford in a special program created for Ford Police Interceptor Utility vehicles, including sedans and Explorer SUVs.
The repair program does not apply to non-police Explorers because owners of those vehicles report exhaust fumes entering the cabins, while Explorer Police Interceptor drivers report getting sick from carbon monoxide.
The National Highway Traffic Safety Administration (NHTSA) announced yesterday an expansion of a 2016 investigation into Ford Explorers and complaints about exhaust fumes entering the cabins. The expanded and upgraded investigation includes about 1.3 million consumer and police 2011-2017 Explorer SUVs.
NHTSA says more than 2,700 complaints about exhaust fumes have been filed, with 41 alleged injuries occurring to occupants. In addition to 55 legal claims against Ford, the automaker has received 606 dealer reports and 1,254 warranty claims.
According to federal safety regulators, police agencies have reported finding cracked exhaust manifolds in patrol vehicles, but NHTSA says those cracks would allow only low levels of carbon monoxide to enter the Police Interceptors.
The Interceptors are customized by police and fire departments to accommodate emergency lighting, radios, radars, computers and other devices. Ford has argued from the beginning that it was unsealed holes and gaps in the vehicles that allow exhaust fumes and carbon monoxide to enter the vehicles.
The automaker says although its investigation is ongoing, Ford has found many holes and unsealed spaces in the Police Interceptors, holes created after the vehicles left the factories.
Ford says that even though it isn't responsible for creating the holes and gaps that allow carbon monoxide to enter the patrol vehicles, the automaker will still cover the costs for specific repairs in every Police Interceptor Utility.
The repair program will apply to any Interceptor that may experience carbon monoxide issues, regardless of age, mileage or modifications made after Ford sold the vehicles.
As part of the repairs, Ford technicians will seal off the rear of the vehicle where exhaust odors can enter, and provide a new air conditioning calibration that brings in more fresh air during heavy acceleration typical of police driving. Dealers will also check engine diagnostic codes that could indicate problems with the exhaust manifolds, the problem referenced by NHTSA in its investigation.
Ford has created a dedicated hotline for questions related to carbon monoxide and exhaust fume problems in police and fire vehicles. Agencies are encouraged to call 888-260-5575 or bring the vehicles to Ford dealers.