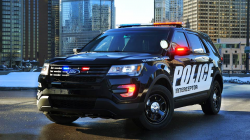 — Alleged Ford Explorer carbon monoxide dangers have caused a large Texas police department to install carbon monoxide detectors in more than 360 Ford Explorer police vehicles.
The Austin Police Department says it will start using stickers that change color if carbon monoxide is detected and will eventually spend about $50 per vehicle to install detectors similar to what are used in homes.
Police officials say recent reports suggest officers may be getting ill from carbon monoxide poisoning in the SUVs, a problem serious enough that a safety bulletin was released on February 27, 2017.
The bulletin says two incidents have been reported within the Austin PD after an officer got lightheaded while driving the Explorer, and another report of a suspicious odor experienced by a sergeant driving an SUV.
Another incident allegedly occurred days ago when an officer driving a Ford Explorer reported feeling sick before the SUV hit a curb. The officer was treated for possible carbon monoxide poisoning and released from the hospital.
Ford Explorer carbon monoxide issues aren't new to owners, Ford or federal safety regulators.
In July 2016, the National Highway Traffic Safety Administration (NHTSA) opened an investigation after receiving more than 150 complaints about exhaust fumes in 2011-2015 Ford Explorers.
NHTSA says most of the complaints describe smelling fumes inside the SUVs during full throttle applications, such as when merging onto highways or climbing steep inclines. In addition, Explorer drivers complain the air conditioning systems contribute to the fumes when the systems are in recirculation mode.
As for Ford, NHTSA says the automaker knows of the problems because two technical service bulletins (TSBs) have been sent to dealerships concerning exhaust fumes.
One TSB (12-12-4) sent to dealers in December 2012 told technicians to seal and undercoat certain areas of the rear floor pans and body seams, replace the left-side air extractors and install rear lift gate drain valves.
Then in July 2014, Ford sent dealers TSB 14-0130 which added additional software changes to the recirculation mode operation of the air conditioning system during full throttle application events.
However, NHTSA says Ford Explorer owners continue to complain about exhaust fumes even after the SUVs were allegedly repaired under the service bulletins.
Separately, a Florida woman filed a Ford Explorer carbon monoxide lawsuit in 2013 alleging her 2013 Ford Explorer made her and her 5-year-old daughter sick, a lawsuit that was settled by both parties in 2016.
Have a complaint about your Ford Explorer? Add your complaint here, about any vehicle.
CarComplaints.com has complaints about Ford Explorer exhaust problems in the model years included in the federal investigation: