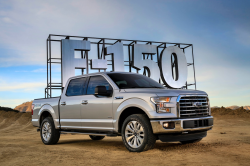 — The same day Ford recalled 15,000 model year 2018 F-150 trucks for problems related to gear shift levers, the automaker also announced a recall of 15,000 model year 2017 F-150s for their own shift lever problems.
The 2017 trucks are equipped with 10-speed automatic transmissions that can remain in gear no matter where the gear shift levers are positioned. Ford says a pin that attaches the transmission shift linkage to the transmission can come out, leaving the shift lever unable to change gears.
The shift lever indicator may display the wrong information and the key can be removed even if the truck is not in PARK. This will cause a warning chime and a message in the instrument cluster, but the truck won't start if the transmission is not in NEUTRAL or PARK.
Then there is the very real problem of the truck rolling away if a driver doesn't apply the parking brake. However, Ford doesn't know of any reported crashes or injuries related to the transmission problems.
The automaker says some of the F-150 trucks were built in Kansas City between September 2016 and August 2017, while the remaining trucks were built in Michigan between August 2016 and July 2017.
About 11,783 of the recalled trucks are in the U.S., 3,169 are in Canada and 701 are in Mexico.
Ford dealers will remove the roll pins and replace them with updated parts, but for now F-150 owners should make sure the parking brakes are applied at all times when the trucks are parked.
The recall is expected to begin December 11, 2017, but concerned truck owners may call Ford at 866-436-7332 and refer to recall number 17S36.
CarComplaints.com has complaints about the 2017 Ford F-150 and many other model years of Ford F-150 trucks.