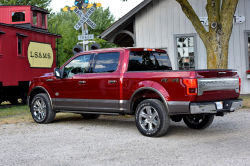 — Ford is recalling about 15,000 new F-150 trucks equipped with 3.3-liter engines and six-speed transmissions and with shift levers mounted on the steering columns.
If a driver quickly moves the shift lever from PARK to DRIVE in the 2018 model year trucks, the gear indication in the instrument panel can fail to work. But the larger problem occurs when reverse gear engages before the truck starts moving forward in DRIVE.
Ford doesn't know of any crashes or injuries related to the problem, but the automaker is warning that an F-150 owner should gently move the shift lever to the desired gear and take the time to confirm the intended gear selection in the PRNDL instrument display.
Some of the 2018 Ford F-150s were built in Michigan between January 12, 2017, and October 9, 2017, and other trucks were made January 30, 2017, to October 9, 2017.
About 12,429 of the F-150 trucks are in the U.S., another 2,023 are in Canada and 579 are located in Mexico.
The recall is expected to begin November 20, 2017, when dealers will reprogram the powertrain control modules with updated software.
If you own a 2018 Ford F-150 and have questions, call 866-436-7332 and request info about recall number 17S35.
In a separate recall of 30 model year 2018 Ford F-150 trucks, the automaker says the cylinder heads are missing holes used to supply lubrication to the camshaft bearings. While the previous recall involved trucks with 3.3-liter engines, the 30 trucks have 3.5-liter engines.
The engines will fail while driving if there isn't enough camshaft lubrication, but Ford is unaware of any crashes or injuries related to the defect. It's likely all 30 trucks are still on dealer lots, but if in the hands of consumers, Ford will arrange to have the trucks brought to dealerships to have the engines replaced.
Owners may call the automaker at 866-436-7332 and use recall number 17S37.
CarComplaints.com has complaints about the Ford F-150 and many other Ford vehicles.