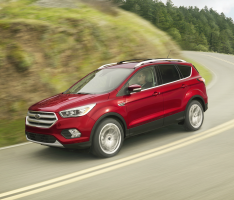 — Ford is recalling more than 10,150 model year 2018 Escape SUVs to fix problems with the side curtain airbags.
Ford was contacted last month by the side curtain airbag supplier (Autoliv) concerning a test that showed a problem, something the supplier believed was caused by something called the "top hat diffuser" located in the airbag module.
Ford says the metal wasn't formed properly and can cause the diffuser on the side airbag to detach from the inflator during deployment. This can cause a tear in the airbag that could cause the side airbag to not fully inflate.
In addition, the diffuser could become a projectile flying around the passenger compartment in a crash, something that could injure occupants even if the crash doesn't.
However, Ford isn't aware of any reports of crashes or injuries related to the side airbag problems.
The 2018 Ford Escape recall is expected to begin January 29, 2018. Ford dealerships will need to replace the driver and passenger side curtain airbags, but the automaker didn't say how long it will take technicians to make the repairs.
If you own a 2018 Ford Escape and have concerns about the side airbags, call the automaker at 866-436-7332. Ford's number for the Escape recall is 17S44.
To date, CarComplaints.com has received more than 3,600 owner-reported complaints about Ford Escapes.