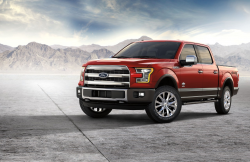 — Ford F-150 door latch problems have caused the automaker to recall more than 1.3 million 2015-2017 Ford F-150 and 2017 F-250, F-350, F-450 and F-550 Super Duty trucks after years of complaints about door latches freezing, causing the doors to open while driving.
In addition, the door latches could fail and leave customers unable to open the doors.
The automaker says a frozen door latch or a kinked actuation cable can cause the door problems, causing a customer to believe the doors are closed and locked when they aren't. A frozen latch will not fully engage the door striker, although to customers the doors may look completely closed.
The recalled 2015-2017 Ford F-150 trucks were built in Kansas City and Michigan, and the 2017 Super Duty trucks were manufactured in Kentucky.
About 1,101,107 of the trucks are in the U.S., another 222,408 trucks are in Canada and about 21,090 are recalled in Mexico.
Ford dealers will install water shields over the door latches and repair any kinked door latch actuation cables. Until repairs are made, truck owners should double-check their doors to ensure they are properly closed.
Although a door flying open while driving could be a disaster, the automaker says it isn't aware of any crashes or injuries related to the door latches.
The recall is expected to begin November 13, 2017. If you own a 2015-2017 Ford F-150 or 2017 F-250, F-350, F-450 or F-550 Super Duty truck and have questions about the recall, call Ford at 866-436-7332. The reference number for this recall is 17S33.
Since 2016, door latch/lock/handle problems have caused Ford to recall more than 5 million vehicles, and some owners have taken the matter to court to convince Ford to fix F-150 door latches.
One door latch lawsuit alleges Ford sells a large number of trucks based on deceptive and misleading advertising that says the F-150 is "Ford Tough" and equipped with "Rock-Solid Durability."
The New York lawsuit accuses Ford of marketing F-150 trucks that were "Built Ford Tough," but in reality the cold weather and freezing temperatures prevented the doors from being closed or locked. The plaintiff in the case claimed Ford knew about the door latch problems in 2015 when Ford sent dealers a technical service bulletin that said:
"2015 F-150 SuperCab and SuperCrew Cab vehicles built on or before 3/25/2015 may exhibit inoperative door latches during or after freezing temperatures." - TSB 15-0052
A second door latch bulletin was sent to dealers in 2016 that included all 2015-2017 F-150 trucks, but customers kept complaining about frozen door latches after dealers had performed repairs based on the technical service bulletins.
However, the lawsuit was dismissed after a federal judge ruled Ford's marketing slogans (Ford Tough, Rock-Solid Durability) are "puffery" and meant as exaggerated statements.
The judge referenced similar lawsuits, including one against Ford where the court found that Ford's "Built Ford Tough" and "Quality is Job #1" slogans are mere puffery.