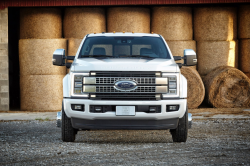 — Ford is recalling nearly 550 model year 2017 Ford F-450 and 550 trucks to replace the driveshafts, not a good sign for brand new trucks. In fact, the problem is so serious that all kinds of components can break, including the transmission and driveshaft components.
The automaker says the F-450 and F-550 trucks can experience driveshaft vibrations caused by a condition that occurs in the powertrain systems at speeds above 75 mph.
The problem is caused by a "resonance frequency" that occurs at speeds above 75 mph and continued operation causes the transmission and driveshaft components to fracture.
The driver may not know of a problem until it hits them and they quickly experience a truck that quits moving while driving. And the truck can roll away if something breaks when the truck is parked without the parking brake engaged.
Although the problem is severe, Ford says it doesn't know of any accidents or injuries related to the driveshaft and transmission problems.
The trucks were built in different locations at different times, with some of the F-450 and F-550 trucks built in Kentucky from June 6, 2016, to February 21, 2017, and other trucks built in Ohio from February 16, 2016, to February 21, 2017.
About 509 F-450 and F-550 trucks are located in the U.S. and 39 are in Canada.
Dealers will need to replace the two-piece driveshafts with new three-piece driveshafts and two center bearing brackets.
Interim notices informing owners of the risk will be mailed on April 6, 2017. Owners will receive second notices when remedy parts become available.
If you own a 2017 Ford F-450 or F-550 and are concerned, call the automaker at 866-436-7332 and ask about recall number 17S08.
Feel free to read what owners say about their Ford F-450 and Ford F-550 trucks.