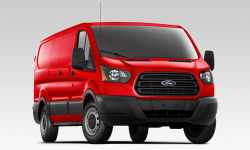 — Ford is recalling more than 402,000 Transit vans in North America to replace the driveshaft flexible couplings, a recall that apparently could take a while to complete.
The 2015-2017 Transit vans can stop moving if the flexible couplings crack and separate from the driveshafts. In addition, a separation can cause the Transit to roll away when parked if the parking brake isn't applied.
Ford also says a separation can damage brake and fuel lines, possibly causing a loss of braking or fires from leaking gas lines, however, the automaker says no crashes or injuries have been reported.
Out of the 402,462 vans in North America, 370,630 are in the U.S., 2,361 in federalized territories, 3,217 in Mexico and 26,254 are recalled in Canada.
The automaker says the recalled vans/buses are equipped with medium, long and extended wheelbases and chassis cab/cutaways with medium wheelbases, all built in Kansas City between January 17, 2014, and June 15, 2017.
Ford dealers will do an interim repair for now, at least for some Transit owners. Based on the data, Ford doesn't believe the current flexible couplings will separate from the driveshafts in vans with less than 30,000 miles. Any vans with under 30,000 miles or vehicles that have had their driveshaft or driveshaft flexible couplings replaced within the last 30,000 miles won't be repaired yet.
Customers should schedule repair appointments with dealers when the vans hit 30,000 miles to have the interim repairs performed.
For vans with more than 30,000 miles, dealers will make interim repairs consisting of replacing the driveshaft flexible couplings every 30,000 miles until final repairs are available and completed.
The permanent repair will see dealers make one of two repairs: Installing a redesigned flexible coupling with a modified driveshaft bracket and shield, or installing a revised driveshaft equipped with a universal joint.
While owners may not like waiting for final repairs, Ford isn't liking things much better as the Transit recall will reportedly cost the automaker about $140 million.
Ford didn't say when the 2015-2017 Transit van recall will begin, so owners should watch for official recall notices from the automaker.
Affected Transit owners with questions should call Ford at 866-436-7332.
CarComplaints.com has owner-reported complaints about Ford Transit vans.