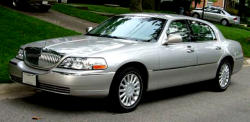 — Ford has won a lawsuit that alleges a 2003 Lincoln Town Car was manufactured with defects that caused a side airbag to fail when the car hit a tree.
The Florida lawsuit was filed by Owen George in 2015, who alleges he suffered serious injuries because the Town Car was manufactured with defects.
The lawsuit alleges the passenger side torso airbag should have deployed in the crash but instead it failed and caused George to suffer a fractured neck.
The plaintiff claims Ford didn't use designs that would have made the car safe to drive. In addition, Ford allegedly failed to use "existing state-of-the-art design alternatives which were cost-effective" and would have made the Town Car more safe for the plaintiff.
According to the plaintiff claims Ford didn't provide adequate warning about the use of the 2003 Town Car, something that would have prevented the crash and injuries.
Ford denied there were problems with the car or with the airbag system, and plaintiff George got into trouble early in the case when he wanted evidence of alcohol use the day of the crash kept away from the jury.
The judge said that although the plaintiff claimed the alcohol played no part in the crash and shouldn't be mentioned to the jury, the judge ruled it meant everything. The judge further said the plaintiff apparently previously lied about drinking that day and the jury needed to know about the credibility of the plaintiff.
Additionally, the judge said George allegedly tried to get the driver of the Town Car to lie about drinking alcohol that day.
The lawsuit was filed in the Circuit Court of the 18th Judicial Circuit for Brevard County, Florida - Owen George v. Ford Motor Company.