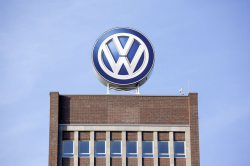 — James Liang, the former Volkswagen engineer who admitted his role in the automaker's emissions scandal, may get three years in prison based on a recommendation by U.S. prosecutors.
Liang could face five years in prison, but prosecutors say three years will be sufficient since Mr. Liang provided information that led to the indictments of other VW executives.
Prosecutors say Liang knew exactly what he was doing when he illegally worked on the defeat devices and allegedly convinced himself that his job was to find solutions to engineering problems, not monitor company ethics.
Liang pleaded guilty in 2016 to deceiving state and federal regulators, and facing a possible five years in prison and a $250,000 fine, he agreed to cooperate with prosecutors who wanted to know the inner workings of Volkswagen.
The engineer moved to the U.S. in 2008 to help with the launch of new clean diesel vehicles and told prosecutors he used the emissions defeat device while working on the EA 189 diesel engine. Liang also admitted he assisted in making the defeat devices work.
His official title while at the diesel testing facility was "Leader of Diesel Competence," but prosecutors say his actions were illegal and far from competent.
Liang also admitted Volkswagen lied to consumers and regulators about 2-liter and 3-liter diesel engines that were supposed to be good for consumers and the environment. Thanks to researchers at West Virginia University and the International Council on Clean Transportation, the Environmental Protection Agency started asking questions about test results for nitrogen oxide emissions.
VW finally admitted nearly 11 million vehicles worldwide were sold with software that activated when the vehicles were undergoing emissions testing. The cars appeared to be legal in the lab, but once back on the roads, the vehicles emitted up to 40 times the legal levels of nitrogen oxides.
Mr. Liang was the first employee to fall to U.S. prosecutors, but he wasn't the last. At least eight executive-level employees have been charged by the U.S., but most won't see a minute in jail.
Charged with violations of the Clean Air Act and conspiracy are Heinz-Jakob Neusser, Jens Hadler, Richard Dorenkamp, Bernd Gottweis and Jürgen Peter. Those five are German citizens and currently in their home country, meaning they won't face justice here unless they voluntarily return to the U.S.
Then there is Giovanni Pamio, a former manager at Audi who is in Germany, but unlike the others, Pamio isn't a citizen of Germany and may not always be protected.
Another Volkswagen manager was on his way out of the U.S. when authorities halted his trip and arrested him for conspiracy, wire fraud and for violations of the Clean Air Act.
Oliver Schmidt, 48, admitted he played a large part in VW's scheme by knowing about the defeat device software since 2015. Schmidt says he told other employees how to respond to curious federal regulators and had the job of meeting with environmental regulators and lying to them about the diesel vehicles.
Schmidt is currently awaiting sentencing in December 2017 after pleading guilty to conspiracy to defraud the U.S., to commit wire fraud and to violations of the Clean Air Act.
As for Mr. Liang, he worked with other VW engineers to create diesel vehicles that could pass strict U.S. emissions standards and still provide the power and fuel economy Volkswagen management wanted to advertise.
Liang says he knew engineers would need to cheat on emissions tests by using sophisticated software that fooled environmental regulators if there was going to be a snowball's chance in hell of getting the cars certified for sale.
Liang will learn his fate when he is sentenced on August 25.
The James Liang case was filed in the U.S. District Court for the Eastern District of Michigan - U.S. v. Liang.