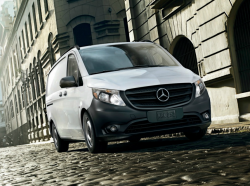 — Daimler Vans is recalling three vans because computer problems can cause all kinds of systems to malfunction, including the electronic stability control systems, the airbag control units and the engine management software.
Recalled are 2013-2014 Freightliner Sprinter and 2016 Mercedes-Benz Metris vans with software that can conflict with some of the systems.
It seems the three vans received software updates in the past that caused the conflicts with the computer systems.
The automaker didn't say when the recall will begin, but dealers are expected to update the affected control units on the three vans.
If you believe you may own one of these vans, with questions contact Daimler Vans at 877-762-8267.