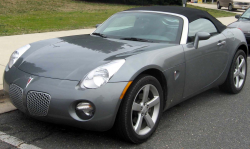 — General Motors has airbag system problems, something that has led to the recall of 91,000 model year 2006-2010 Pontiac Solstice and 2007-2010 Saturn Sky cars.
The cars have passenger airbag suppression systems designed to determine whether the passenger seat is occupied by a child and whether the front passenger airbag should be suppressed during a crash.
The system uses a flexible sensor mat inside the passenger seat and pressure on the seat from an occupant can bend and damage the sensor's conductor. This can cause problems with the circuit and if left open, the suppression system module will indicate to the vehicle's sensing and diagnostic module that a fault exists in the system, causing the airbag not to deploy in a crash.
That will be fine if a child is in the seat but a disaster if an adult needs the protection of the airbag during a crash.
Drivers will receive warnings the airbag is deactivated, including a message that says "Service Airbag," a warning chime will be heard and the airbag warning light will illuminate.
The National Highway Traffic Safety Administration (NHTSA) received a petition in 2016 from a consumer asking the feds to investigate alleged passenger sensing system sensor mats used in 2006-2010 Pontiac Solstice and 2007-2010 Saturn Sky cars. The petitioner claimed the sensor mats could break and cause the passenger airbags to fail in a crash.
Nearly 1,000 complaints have been filed with NHTSA about passenger airbags deactivating in GM vehicles, so the government requested information from the automaker. GM then opened its own investigation in December and decided to order a recall based on results of the investigation.
However, General Motors doesn't know when the recall will begin or how to fix the problem.
Owners of the Pontiac Solstice may call 800-762-2737 and Saturn Sky owners may call 800-553-6000. GM's number for this recall is 17036.
Read owner-reported complaints about the Pontiac Solstice and Saturn Sky: